The oldest bars in Amsterdam are historical establishments serving patrons for centuries, preserving the city's rich cultural heritage and traditions. These bars have witnessed the passage of time and offer a glimpse into Amsterdam's past through their unique architecture, ambiance, and stories.
Some of the oldest bars in Amsterdam include Cafe Karpershoek (est. 1606), Chris (est. 1624), Brandon (est. 1626), De Druif (est. 1631), Papeneiland (est. 1642), De Drie Fleschjes (est. 1650), Hoppe (est. 1670), Kalkhoven (est. 1670), and Wijnand Fockink (est. 1679). These venerable establishments continue to attract visitors and locals alike, offering a timeless experience that bridges the gap between the past and the present.
Which is The Oldest Bar in Amsterdam?
Cafe De Karpershoek is the oldest bar in Amsterdam. It has the first, and therefore oldest, trading license. It was built in the year 1606.
However, Cafe 't Aepjen was in business before Cafe Karpershoek. Cafe In 't Aepjen is not considered the oldest bar because it got its liquor license in the 1990s.
The Oldest Bars in Amsterdam are listed below.
Cafe Karpershoek, Martelaarsgracht 2, 1606
Chris, Bloemstraat 42, 1624
Brandon, Keizersgracht 157, 1626
De Druif, Rapenburgerplein 83, 1631
Papeneiland, 1642
De Drie Fleschjes, Gravenstraat 18, 1650
Hoppe, Spui 18-20, 1670
Kalkhoven, Prinsengracht 283, 1670
Wijnand Fockink, 1679
In de Wildeman, 1690 )
Oosterling, Utrechtsestraat 140, 1740
't Smalle, Egelantiersgracht 12, 1786
De Dokter ('t Doktertje), 1798 )
1. Café Karpershoek,1606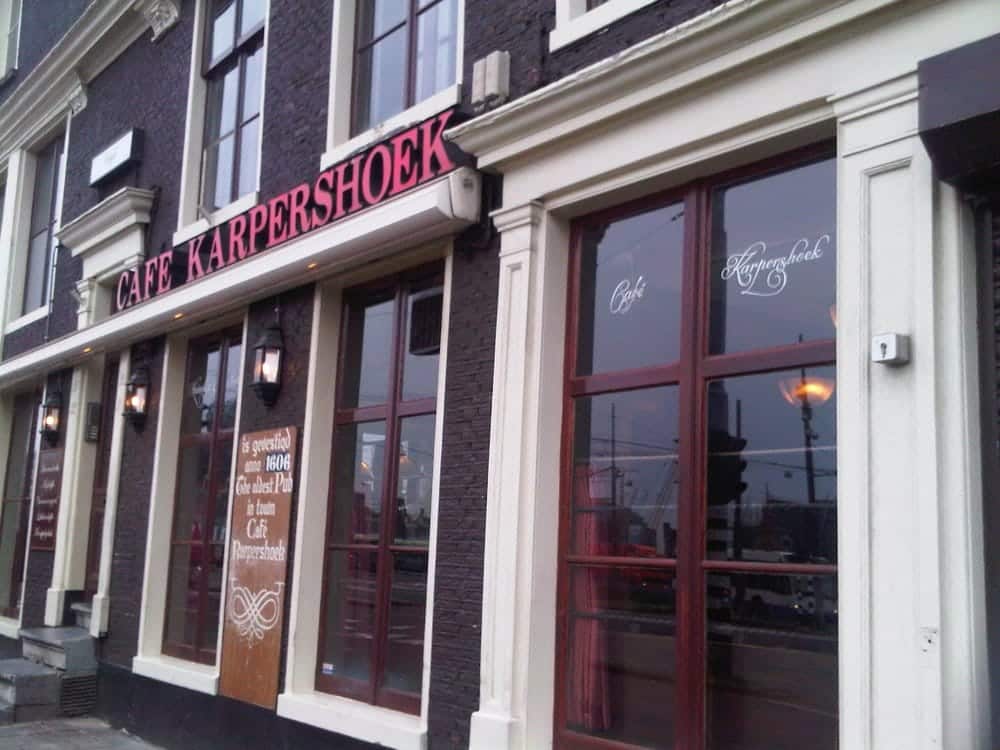 Café Karpershoek is one of Amsterdam's oldest operating pubs and holds a special place in the city's history.
You will be immediately transported back as you step inside this historic establishment. Since 1606, Café Karpershoek has witnessed centuries of stories and memories.
The pub's location on Martelaarsgracht adds to its charm, nestled within the bustling streets of Amsterdam.
As you take in the surroundings of this brown bar, you can't help but appreciate the traditional Dutch atmosphere that permeates every corner of this establishment.
Inside Café Karpershoek, you will be greeted by an ambience that exudes history and character.
The interior, adorned with aged wooden furniture, vintage decorations, and sepia-toned photographs, tells tales of the past.
It's a place where locals and visitors gather to unwind, converse, and enjoy the company of friends.
Being one of the oldest pubs in Amsterdam, Café Karpershoek has become a beloved institution.
It is renowned for serving a wide selection of beverages, including traditional Dutch jenever (gin) and a variety of local beers.
The pub's longevity is a testament to its enduring appeal.
Café Karpershoek has witnessed the ebb and flow of history, remaining a steadfast presence in the ever-changing cityscape of Amsterdam.
It stands as a cultural treasure, preserving the heritage and traditions that make Amsterdam such a unique and vibrant city.
Visiting Café Karpershoek is not just about enjoying a drink; it's an opportunity to immerse oneself in Amsterdam's rich past.
It's a chance to connect with the stories of those who came before and appreciate this historic pub's timeless charm.
2. Cafe Chris, 1624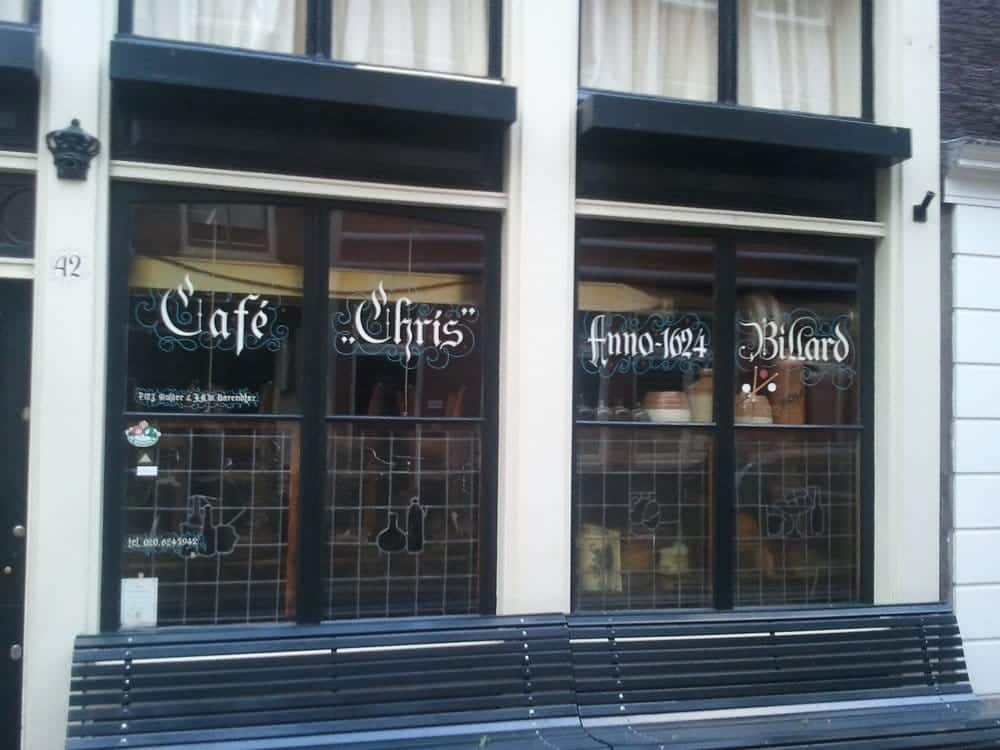 Café Chris is nestled in the vibrant neighborhood of Jordaan. It holds a special place in Amsterdam's history.
It proudly boasts the distinction of being granted the very first liquor license in the area way back in 1624.
As you step inside, you'll be instantly transported to a bygone era, feeling the weight of centuries of stories woven into its walls.
Cafe Chris has an undeniable charm that captivates me from the moment I enter. The interior exudes a warm and inviting atmosphere, adorned with vintage photographs and memorabilia that harken back to a time long gone.
The worn wooden tables and the cozy lighting create an intimate setting that feels like a home away from home.
One thing that truly sets Cafe Chris apart is its legendary little toilet. Nestled in a corner, it's ingeniously crammed into a small closet beneath a set of stairs.
There's a water tank and flusher outside the bathroom door, much to the delight of tipsy patrons who find the quirky setup amusing. It's a unique feature that adds to the pub's character and provides endless entertainment for those sitting nearby.
Cafe Chris is not just a place to enjoy a drink; it's a living testament to the city's rich history and vibrant culture.
It's a gathering place where locals and visitors come together, sharing stories, laughter, and creating memories.
With every visit, you'll feel connected to the past and the present, grateful for the opportunity to experience a slice of Amsterdam's heritage.
3. Cafe Brandon, 1626
Located on Keizersgracht 157 in the heart of Amsterdam's Centrum, Cafe Brandon is a hidden gem that exudes warmth and charm.
The inviting atmosphere envelops you as you step inside, creating an instant sense of belonging.
The cozy interior, adorned with unique furniture and quirky taxidermy, transports you to a different era—a time when life seemed simpler and more vibrant.
The staff at Cafe Brandon always greet with genuine friendliness, and their expertise behind the bar shines through as they craft the perfect Hendrix GnT.
Cafe Brandon's quaint Dutch charm adds to its appeal. It's a delightful spot where locals and visitors gather to enjoy a few drinks, especially during the warmer months when you can sit outside and savor the picturesque view of the canals.
However, the cozy interior beckons even during the winter, offering a refuge from the chilly weather. You will take note that the big inside room is designated as a smoking area, which may not be ideal for non-smokers, but the overall ambience compensates for this aspect.
This little bar in the heart of Amsterdam truly captures the essence of a classic brown café. Its intimate size and dim lighting create a cozy atmosphere that encourages conversation and connection.
The eclectic decor, adorned with an abundance of paraphernalia, sparks curiosity and invites exploration.
While Cafe Brandon's menu is simple, featuring the usual beers and snacks, it perfectly complements the laid-back atmosphere. It's a place where you can unwind, order "a beer," and let time pass effortlessly.
4. Cafe De Druif, 1631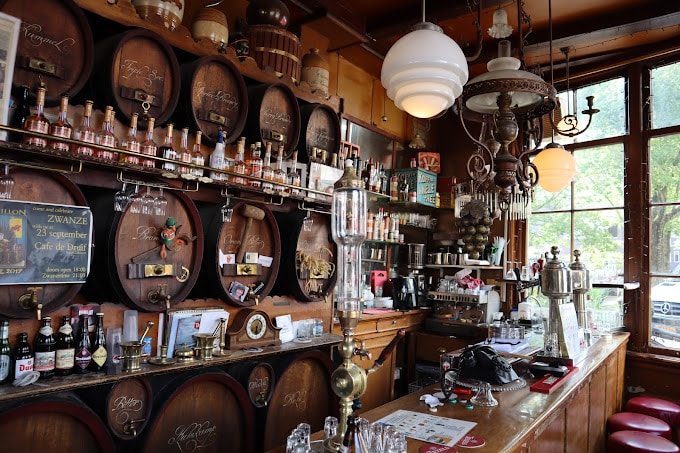 I was convinced for many years that it was indeed café De Druif (grape) that was the oldest. It had certainly laid claim to the rumour!
The reason was that it too was a sailor's pub, and it too was mentioned in numerous drunken sailor stories.
Making up stories comes easy to some folk, but dreaming up an entire pub and its interior may push things too far.
And that is what we have here, an entire pub and its furnishings described on paper by a sailor, and what for a sailor, an admiral, yes sir, nobody else than Piet Hein, one of Holland's two famous admirals.
Piet Hein became well known for his battle with a Spanish fleet carrying silver; he captured the fleet and its precious metals.
For a more detailed discourse on the life, exploits and death of Admiral Hein, I will (hereby) refer you to the site Wikipedia.
While according to the official records, the pub was founded after the death of the said Admiral, he was apparently of a different opinion or at least held a different view.

I.o.w. The Druif is somewhat older than officially stated
Nevertheless, it's still not as old as 't Aepjen on the Zeedijk, that place is a lot older, our dear Admiral was probably still in his mother's womb when "t Aepjen first opened its doors.
5. Cafe Papeneiland, 1642
Located at Prinsengracht 2, Cafe Papeneiland is fueled by glowing reviews and the promise of an extraordinary experience.
The first thing that wilkl catch your attention in this bar is the enticing aroma of freshly baked apple pie wafting through the air. It's no wonder that the pie is renowned and worth the visit.
The moment you take a bite, you'll be transported to a world of pure culinary bliss. The authentic Dutch apple pie is a testament to tradition and craftsmanship, with a perfect balance of sweetness and tartness. It truly lives up to its reputation as one of the best in town.
Sitting upstairs in the quiet and quaint space, you'll treated to stunning views of the canal and a picturesque bridge.
The tranquility of the surroundings allows you to savor every moment, basking in the sunshine that gently caresses the skin. It's the ideal spot to indulge in a slice of heaven, paired with a refreshing cold beer that adds an extra layer of enjoyment to the experience.
The staff's genuine friendliness and attentiveness will make you feel like a cherished guest. Their passion for their craft shines through in every interaction, adding a personal touch to the overall ambiance of the cafe. They go above and beyond to ensure that your visit is memorable and that you are well taken care of.
The interior of Cafe Papeneiland is a true testament to its long-standing history. As one of the oldest cafes in Amsterdam, it exudes a timeless appeal that draws me in.
The slightly messy, yet charming decor adds to its authenticity, creating a unique and inviting atmosphere. It's a place where you can truly immerse myself in the local culture and embrace the spirit of Amsterdam.
The outdoor terrace, nestled at the edge of the canal, is a hidden gem. Here, you can soak up the beauty of your surroundings while indulging in the heavenly apple pie.
The peaceful ambiance and friendly chatter of fellow patrons add to the sense of camaraderie that permeates the air. It's a perfect spot to relax, unwind, and watch the world go by.
From the traditional Dutch foods on the menu to the dedication of the bartenders and waiters, every aspect of the cafe reflects a commitment to quality and authenticity.
Cafe Papeneiland is not just a cafe; it's an experience. A visit here is a journey back in time, a chance to savor the flavors of the past and revel in the warm hospitality that makes Amsterdam so special.
Whether you are sitting inside, admiring the charming interior, or enjoying the sunshine on the terrace, every moment spent here is a treasure.
6. De Drie Fleschjes, 1650
Nestled in the heart of Amsterdam, at Gravenstraat 18, 1012 NM, you'll discover the enchanting De Drie Fleschjes, also known as Three Little Bottles.
This beautiful and authentic Dutch pub holds a rich history and offers a delightful experience for all who enter its doors.
As you step inside, you'll be greeted by a warm and helpful staff who are passionate about their craft.
The interior exudes an old-world charm, creating an atmosphere that feels like a journey back in time. The bar is adorned with century-old casks, rented by private families or companies, each filled with their favorite concoctions.
De Drie Fleschjes is renowned for its impressive selection of Dutch gin, or Jenevers, including the renowned Corenwyn from Lucas Bols.
The knowledgeable bartenders are more than willing to guide you through the various types and ways to enjoy this traditional spirit. You'll also find a range of liquors, such as the enticing "Half and Half," the delightful "Bitter Cookies," and the famous "Walk in the Woods" (Boswandeling).
To complement your drink of choice, De Drie Fleschjes offers an array of delicious bar snacks.
Whether you're indulging in Ossenworst or savoring a unique Dutch cocktail crafted from their extensive range of Bols liqueurs and other spirits, you'll find the perfect accompaniment to your beverage.
This hidden gem provides a charming and intimate setting, striking a perfect balance between liveliness and serenity.
It attracts a mix of locals and visitors, allowing for engaging conversations and a vibrant atmosphere without being overwhelming.
The small space inside, historically not designed as a bar, adds to the cozy ambiance and creates an authentic experience.
De Drie Fleschjes holds a special place in Amsterdam's history, having served as a tasting room since 1650. Stepping into this historical Dutch bar feels like entering a time capsule, with its stylish and unique interior preserving the spirit of centuries past.
The knowledgeable and welcoming staff add to the allure, providing an exceptional level of service and sharing their passion for Jenever and the bar's rich heritage.
While De Drie Fleschjes may have limited seating due to its intimate size, its smallness contributes to its charm. It's advisable to visit earlier in the day to secure a spot in this cozy establishment.
As you sip your drink and immerse yourself in the atmosphere, you'll likely encounter fascinating individuals and forge connections that make your visit even more memorable.
With its great character, authentic ambiance, and extensive selection of beverages, De Drie Fleschjes is an unmissable destination for those seeking a taste of Amsterdam's history and culture.
Experience the magic of this centuries-old pub, where time seems to stand still, and let its charm transport you to another era.
7. Hoppe, 1670
Hoppe is located at Spui 18-20, 1012 XA Amsterdam, and it has been in business since 1670, making it a must-visit for anyone interested in the city's rich history.
As soon as you enter, you will be captivated by the historical charm and cozy atmosphere that enveloped the place.
One of the highlights of my visit was indulging in their spectacular Bitterballen. These delicious Dutch snacks were served piping hot, and the first bite was a delightfully mouthwatering experience.
I enjoyed sitting back with a local beer, savoring the flavors while watching the world go by.
Whether you choose to relax on the patio, ideal for people-watching, or cozy up inside, you'll find that Hoppe offers a beautiful spot to unwind and soak in the surroundings.
The bar staff was not only efficient but also incredibly friendly. They took the time to share fascinating anecdotes about the location's history and details about the bar itself.
It added another layer of enjoyment to my visit, making it a truly memorable experience.
Apart from its great local beers, Hoppe offers a piece of history with its aged Jenever. This unique spirit, similar to gin but aged for ten years in wooden barrels, possesses a smooth and smoky taste worth trying.
The bartenders were amiable and laid-back, and the wide selection of beers catered to all tastes. Whether you stand at the bar or grab a seat along the side, you're guaranteed a pleasant chat and a few drinks in a delightful setting.
The decor added to its charm, and I highly recommend stopping here.
If you find yourself in Amsterdam, don't miss the opportunity to visit Hoppe Cafe. It's where history, great food, friendly service, and a wide selection of drinks seamlessly come together, creating an experience you won't soon forget.
8. Café Kalkhoven, 1670
Café Kalkhoven, located at Prinsengracht 283 in the heart of Amsterdam, has been in business since 1670.
The atmosphere is truly delightful, with comfortable seating, beautiful paintings adorning the walls, and the soft glow of dimmed lights creating a cozy ambiance.
The entire setting exuded warmth and friendliness that will make you feel at home. I even witnessed tourists requesting the staff to capture moments for them, as they couldn't resist capturing the unique ambiance on camera.
The pub itself is excellent! The staff's kindness makes you feel at ease, and their recommendations for both food and beers were spot-on.
As you indulge in the delicious offerings, you will admire the picturesque view of the canal, which serves as the perfect backdrop for an unforgettable experience.
The beer selection at Café Kalkhoven is impressive, although the snack options are limited. However, what truly stands out is the willingness of the bar staff to engage in conversation.
Even if you find yourself alone, you can rest assured that the friendly and talkative staff will make you feel included.
Additionally, the bar boasts a diverse selection of shots for those looking to try something different.
A true gem, Café Kalkhoven is a fantastic example of an old-fashioned 'brown' Amsterdam café. Its location, right across from the famous Westerkerk, adds to its charm.
The 'broodje bal' (meatball) served here is an absolute delight and worth savoring. Furthermore, the staff's warmth and hospitality are unmatched, making every visit memorable.
With its local feel and easy accessibility via the nearby tram stop Westerkerk, Café Kalkhoven stands out as a welcoming and spacious brown café.
The extensive beer selection caters to various preferences, and the overall experience is far from crowded compared to other establishments.
9. Wijnand Fockink, 1679
Wynand Fockink is truly a hidden gem in the heart of Amsterdam. Located down a charming alley from Dom Square, this tasting room has delighted patrons since 1679. Even when bustling with activity, the staff at Wynand Fockink are simply incredible.
They have an unrivaled ability to guide you through their exquisite range of products, ensuring your experience is tailored to your unique tastes.
During my visit, I was captivated by the charm of Wynand Fockink. This authentic establishment exclusively sells bottles, so remember to save space in your suitcase if traveling to Amsterdam.
The staff members are down-to-earth and genuinely passionate about their products. They were more than happy to share their knowledge with me, making my visit all the more enjoyable. I couldn't get enough of their ginger bitters—it was my favorite!
Wynand Fockink offers a wide variety of excellent Jenevers and a well-stocked tasting room where you can expand your knowledge of these traditional spirits. I had the privilege of receiving an education on Jenever, and the experience was truly enlightening.
The small distillery you can tour during the day further deepens your appreciation for the craft. Our guide even treated us to some exclusive tastings unavailable on the shelf. Their exceptional service, even near closing time, gave me a lasting impression. I happily left with two bottles that I can't wait to savor.
10. In de Wildeman, 1690
In de Wildeman, a charming bar located at Kolksteeg 3, 1012 PT Amsterdam. Incredibly, this establishment has been in business since 1690, and its rich history adds to its allure. As a craft beer lover, I can confidently say this place is a paradise for beer enthusiasts like myself.
The beer selection at In de Wildeman is genuinely extraordinary. Upon my visit, I was amazed by the various options available. The staff members were incredibly knowledgeable and provided me with great recommendations.
Their service was top-notch inside the bar and when I found a spot outside. I felt cared for during my time there, which was one of the highlights of my visit to Amsterdam.
For those who, like me, are passionate about exploring unique and rare beers, I highly recommend asking for the "Brett will eat everything" menu.
This curated selection features world-class beers such as Bokfont, Tommie Sjef, Cantillon, and 3F bottles.
Although the prices may be slightly higher, the experience of enjoying a lambic beer out of a basket in the alleyway as the sun sets on an Amsterdam afternoon is unparalleled.
In addition to the fantastic beer, I must mention the delightful snacks available at In de Wildeman. I had the pleasure of trying the smoked mussels and the delicious meatballs.
The combination of great food, excellent beer, and the opportunity to sit outside and watch the lively crowds passing by made it a truly memorable experience. It's worth noting that In de Wildeman stands out as a hidden gem among the more touristy bars in Amsterdam.
11. Cafe Slijterij Oosterling, 1740
Located on a great corner spot, Café Slijterij Oosterling offers indoor and outdoor dining options. I particularly enjoyed sitting outside and watching people pass by while observing the nearby park. The café boasts a wide range of drink options, making it a paradise for cocktail lovers.
During my visit, the bartender recommended trying their jenever, which is more akin to brandy than gin. I must say, it was a delightful and delicious experience. I wholeheartedly recommend trying it.
Even though they don't take reservations, I had the opportunity to test them beforehand, and they kindly suggested the best time to come over for breakfast. Their recommendation worked perfectly, and I couldn't have been happier with the experience.
The breakfast I had at Café Slijterij Oosterling was delicious, and the price was more than reasonable.
The café has a rich history and exudes a cool old-world charm that instantly captured my attention. It was fascinating to be in such a historic and unique spot while enjoying my meal.
I can confidently say that it's a very cool place to visit.
As one of the best Brown Cafés in Amsterdam, Café Slijterij Oosterling truly stands out.
It embodies the essence of a traditional old boozer, and I was thoroughly impressed.
The café owner is delightful and adds a personal touch to the experience. The selection of beers is incredible, and there's something for everyone.
I highly recommend trying their Weizen if you appreciate a good wheat beer. It's truly a must-visit destination for beer enthusiasts.
12. Café 't Smalle, 1786
Café 't Smalle, a charming establishment located at Utrechtsestraat 140, 1017 VT Amsterdam. Being in business since 1786, this historic bar holds a special place in the hearts of locals and visitors alike.
Before my visit, I had the opportunity to exchange messages with the café, despite their policy of not taking reservations.
They graciously suggested the best time for breakfast, and it was a perfect arrangement.
The breakfast itself was delicious, and the price was reasonable, considering the historic and cool ambiance of the place.
Upon arrival, I was immediately drawn to the great corner spot for indoor and outdoor dining.
It was delightful to sit back and observe the hustle and bustle of people passing by and those enjoying the nearby park. The atmosphere was truly captivating.
As a lover of cocktails, I was thrilled to discover the extensive drink selection available at Café 't Smalle.
The bartender recommended trying their jenever, a spirit between brandy and gin. I must say, it was a delightful and unique experience. I highly recommend giving it a try.
Its rich history of over 150 years is evident in every nook and cranny. I enjoyed chatting with Barman Oscar, who hails from an Oosterling lineage. His warm and friendly nature added to the overall experience.
The bartenders were exceptionally friendly and knowledgeable, helping me choose a delightful Jenever and sharing intriguing stories about the bar's history.
I was amazed to learn that the wood on the bar has been standing for over 300 years!
13. Café De Dokter, 1798
Café De Dokter is a truly charming place, located at Rozenboomsteeg 4 in the heart of Amsterdam.
As I step inside, I'm immediately struck by the warm and welcoming atmosphere.
The barman behind the counter catches my attention with his hard work and infectious smile.
It's evident that he takes pride in his craft, serving up drinks with skill and efficiency.
The lady working alongside him is equally friendly, sharing her knowledge of Amsterdam and recommending must-see destinations. Her warmth adds to the overall experience.
I learn that Café De Dokter holds the distinction of being the smallest bar in Amsterdam, and it's a family-owned establishment with a rich history dating back to 1798.
The owner, who has kept the tradition alive for generations, is happy to regale visitors with fascinating stories. I make a mental note to strike up a conversation with him during my visit.
The bar's size, though small, is actually a positive feature. It creates an intimate setting that encourages interaction with fellow patrons.
As I sip my beer, I find myself engaged in conversations with those around me, effortlessly adding to the lively and convivial atmosphere.
The beer selection is excellent, with a variety of options to suit every taste. I sample a Lambic, a triple bock, and an Abbey beer, each served in their respective proper glasses, ensuring an authentic experience.
Though I don't indulge in any bar snacks on this occasion, I can't help but notice the enticing cheese and meat board adorned with delectable extras. It's clear that the attention to detail extends beyond the beverages.
The staff is attentive, ensuring that I feel at home right from the moment I step through the door.
Café De Dokter offers more than just great drinks and friendly service.
The ambience is uniquely appealing, with an old-world charm that transports me to a different era. The handwritten bill on prescription paper adds a special touch, reminding me of the bar's rich history and dedication to its traditions.
A modern point-of-sale system would seem out of place in a place like this.
Perched near the dock, Café De Dokter offers a picturesque view of boats bobbing gently.
Café De Dokter is a gem in Amsterdam's vibrant bar scene. Its long-standing reputation for excellence and its dedication to providing a unique and inviting experience make it a must-visit during your trip to Amsterdam.
Amsterdam is rich in pubs; visiting them, all would take over a year. Pub density in Amsterdam is the highest in the nation.
After examining the oldest and the smallest bar in town, I'd like to point out a few more local watering holes for you to consider; these are chosen for their looks, not age.
De Pilsener Club (The English Ass), Begijnensteeg 4
Lacroix, overtoom 219
de Pels, Huidenstraat 25
de Wetering, Weteringstraat 37
2 Zwaantjes
Nol, Westerstraat 109
De Gouden en Zilveren Spiegel, Kattengat 4-6
In de Lompen, Nieuwebrugsteeg 13
Lowietje (Baantjer cafe)
Rooie Nelis
Het Bossche Hofje, Palmgracht 20-26