One could wonder why a pub (Café in Dutch) is seen as one of the most significant events in Dutch history. So much so that one out of 50 windows on the Canon of Amsterdam is devoted to it. Personally, I think that there are a lot of other subjects that could have been portrayed instead.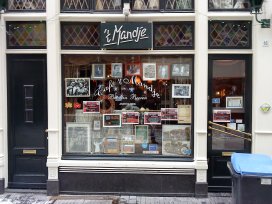 Of course, in my humble opinion, the whole Canon reeks a little. The reason this was included, I think, is because of the gay thing; I can't think of another reason. But hey, we're all different and allowed to a certain extent, at least, to have our own opinion.
So, Café 't Mandje it is!
We already mentioned that Café means pub and 't mandje means the little basket.
On one of Amsterdam's oldest streets called the Zeedijk (sea dike), there's a distinctive, controversial little pub called 't mandje. It was closed for 30 years but has always been in the hands of the Beeren family. Bet of Beeren was one of the first landlords in Amsterdam who openly supported the gay movement.
Bet died in 1967, exactly 40 after she opened up the place. Her sister Greet kept the pub open another 15 years, but in the end, in 1982, she saw herself forced to close its doors.
Gay Games 1998
When in 1998, Amsterdam organized the Gay Games Greet opened up again for a week. She'd left everything intact, the way it had always been. Greet passed away in 2007, precisely 40 years after her sister Bet.


As if nothing ever changed
The pub was closed for over 30 years, and when they opened up again, the interior was still the same as before. But local laws had changed; it needed to come up to new requirements, sanitation needed an overhaul, the new sound and electricity standards that had come in place had to be met. But the interior was to remain the same; everybody agreed on that.
Pictures were taken, and then everything went out, including the floorboards. After that, the sanitary, electrical and sound isolation materials were installed, next out came the pictures, and everything was put back in the same way it was.
The Beeren family still owns and runs the place.