The 85 meters tall Wester tower in Amsterdam is the tower of 1631 completed Wester church, near the, how else could it be, the Western market.
The church was built beside a cemetery in use since 1620.
Many natives of Amsterdam consider the Wester tower to be the pearl of the Jordaan or the centre or heart of the Jordaan. However, in fact, the tower is not situated in the Jordaan district
but stands tall just outside it.
Anne Frank wrote in her diary to her imaginary friend that she could hear the bells of the Wester tower. The apex of the structure supports The Emperor's Crown; it was placed there in 1638. The original colour of the crown was not as blue as today; it was painted a golden yellow representing Imperial Gold. The blue dates back to 2006.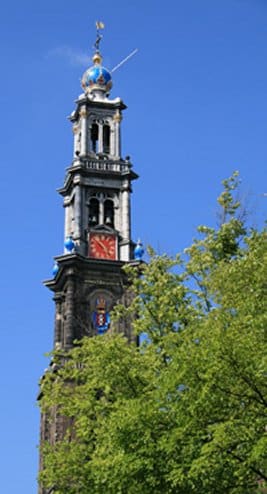 In 1489, Emperor Maximilian first granted Amsterdam the right to add a copy of his Imperial crown to its crest.
Rembrandt of Rijn body lies buried in the adjacent church. Burials no longer occur there, not since 1865, but it is still a popular venue for weddings and concerts. Our present Queen Beatrice was married in it in 1996. The building can also be rented for various events. The church still functions as such, with services held every Sunday morning. Its yearly Christmas eve services are spectacular as the entire church is lit up by candlelight only. Visitors spend hours waiting lined up in the cold trying to get a decent seat; many of those who attend this service are students away from home.
The balcony (only accessible during the summer months) provides us with a rather good view
of Jordaan district.
The Western church on AMSTERDAM TOURISM
The Western church is window number 14 in the Canon of Amsterdam.
The Western tower is window number 43 in the Canon of Amsterdam.