To the Dutch, Volendam is primarily a town of music, bands and musicians, some of whom became famous, like The Cats and BZN, who had international hit songs. For you tourist, visitor or reader, its musical aspect won't be all that important.
Volendam is a village, traditionally a fishing village. Together with its sister village Edam it makes up the municipality of Edam and Volendam. Together they have a population of 30.000 people. Volendam is a catholic enclave in a protestant province.
Edam, of course, is known for its cheese. It has a large and old cheese market. It's also a lovely little village. To get to these villages, you can either drive or take a bus from Central station, not that far from the city.
Why Volendam?
Volendam's main attraction is its idyllic character, the wooden houses, the old fashioned clothes, the harbour, the tourist shops with puppets in local costumes, clogs, of course, Defts blue, (Dutch china) windmills etc. The fishing boats and the good-natured folks of the village. Volendam is a tight-knit community; they love music and are well known for their love of ale. Many of its citizens still make a living catching fish; others are involved in the tourist trade.
The village lies on what is now called het Ijsselmeer, but that was not always the case. Meer is the Dutch word for lake, and that's pretty much what it is right now. At around late 1920, The Netherlands undertook another daring exercise, the closing of the Zuiderzee (Southern Sea). And so it became her Ijsselmeer, Ijssel being an offspring from the river Rhine that ends up in the lake. When it was still a sea, things were different, and it was not an easy sea. But still, as you stand on the dike and look over its harbour, you get an idea of how things once were. Volendam has countless little restaurants that you may try out when you become hungry. The place can tend to be a bit nippy, especially along the shore on the dike.

Yearly Traditions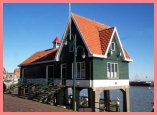 Each year, in September, the fair comes to town; it stays there for four days, it's the time of year for the locals to party. Non-locals and tourists can join in as well, and many do.
The village specialty is smoked eel, and I remember being a child, and my mum would bring some home from the market; it was heaven. The town has a brewery, and it brews no less than 6 different beers. Their Bokbeer (a brown ale) is known as one of the best in the country.
In June, another event takes place, not as wild as the fair perhaps but worth taking the time to have a look, that is, if you're in town. It's known as Volendammer weekend. Its citizens dress up in traditional costumes, and old crafts and professions are resurrected. There's music everywhere, from stages and pubs. There'll be an eel smoking contest, barbeques, and a sailing race. Every boat in the village will take to the water and try to obtain the 'best sailor of the day.'
Traditional costumes
There are several villages in The Netherlands where people still wear traditional costumes, like Katwijk, Urk and Spakenburg.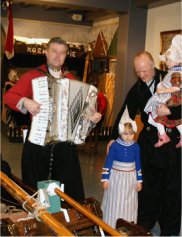 While the people of Volendam also often wear their village costumes, this is usually more out of economic motives than real tradition. When once a Volendammer girl in costume was by some media organisation portrayed as typically Dutch, she was not amused.
The Japanese and Americans love to try on the wooden clogs and traditional dresses, to each thing, I guess.
The old wooden fish auction is also worth visiting; while it's no longer in use to auction off fish, go and have a look anyway. waard.
Museums in Volendam
You can easily spend a whole day in this remarkable village, and it holds 2 museums.
Volendammer museum
This museum houses a cigar band house and a movie theatre. There's a permanent exhibition of Volendam traditional costumes on display, as well as jewellery. There are also paintings, drawings and sculptures to admire. Furthermore, there are photos, picture postcards and old interiors of traditional houses to observe.
Palingsound museum
This museum is dedicated to the village's musicians and singers, and there's a whole new generation of them stepping up to the plate. They mostly sing in Dutch, but not all of them.
Market
Market day in Volendam is Saturday, in de Conijnstraat from 10.00 until 16.00 hours.