Vincent van Gogh, 30th March 1853 – 29th July 1890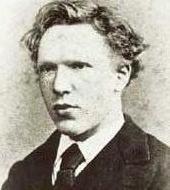 Vincent van Gogh was born on the 30th of March 1853 in the Southern Dutch town of Groot Zundert. His father, the Reverend Theodorus van Gogh was a man of the cloth. His mother's name was Anna Cornelia Carbentus; they had six children, only one matter to our story, his brother Theo.
There's no known about Vincent's childhood; he had a sketchy education and was reportedly a rather serious, introspective and quiet young boy. The one undisputed photo of a young Vincent van Gogh shows us a quite handsome, clean-shaven young man, not at all like the portraits he painted of himself. Yet even at this young age, his eyes and brow portray an intensity that we do see reflected in his later portraits of himself.
Vincent didn't really start drawing and painting until he was about 25 years old and had already made quite some living. He had worked at an art trading business for several years owned by his uncle, who was also called Vincent van Gogh. He worked in their branch offices in The Haque, Paris and London, where he eventually got fired. He had been in love with a girl already spoken for and had thereupon become severely depressed. He then took up teaching and became a lay preacher in Ipswich. His teaching and preaching didn't last long, and he decided to study theology. He came to Amsterdam, but his disinterest in Latin and Greek saw him leave school before graduating. He then decided to become a missionary, took a course in Belgium, and was sent to an area called The Borinage to preach to the miners there. He chooses to live the same life as they did, which was one of severe poverty. The local church officials became rather upset by this behaviour, thinking it inappropriate for a clergy member to live the life of a pauper.
It was there that he took up drawing. He let himself be inspired by Rembrandt and Millet and supported by his younger brother Theo. He spends the next 5 years living with his parents, where he made numerous drawings and paintings and tried to get himself work to support himself by drawing sketches for magazines. He was unsuccessful at that. He moved to the Hague and started a relationship with a woman called Sien. She was an alcoholic and an ex-prostitute. He also started working for a relative named Anton Mauve, where he met lots of other contemporary painters. His relationship with Sien caused him having to break up with Mauve, and he moved to the northern province of Drenthe to be inspired by a German fellow painter who would visit the area during the summer months. He stayed there for a while then returned to live with his parents for another 2 years. During this period, he painted over 200 hundred paintings.
Vincent had a rather difficult relationship with his father, who disapproved of his love affairs and once almost had him committed to an insane asylum. Yet, he was reportedly heartbroken when the man died. In his later life, he was diagnosed with syphilis; he had moved to France and befriended Paul Gauguin; they fell in love with the same landlady at the local pub. During one of their quarrels over her, he accidentally or not cut off his ear with a razor. He seemed to quarrel with everyone during those days, including his brother Theo, one of his staunchest supporters. Some blamed this on syphilis.
During his last years, he increasingly suffered from nervous breakdowns, while during spells of normalcy, he worked furiously. He had himself committed to an institution called Saint-Paul-de-Mausole, where they prepared a small room for him to paint in. Meanwhile, his notoriety had spread to Belgium, and in 1890, he was invited to take part in an exhibition in Brussels. It was at this exhibition that he sold "The red vineyard to Anna Boch." Reputedly it is the only painting he ever sold. On the 27th of July 1890, at the age of 37, Vincent van Gogh shot himself in the chest; he made the common error that the heart is located behind the left nipple and died 2 days later from internal injuries with his brother Theo by his side.