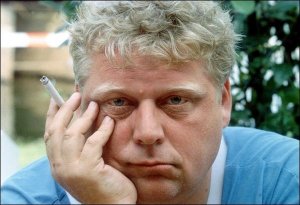 Theo's father worked at intelligence gathering at the Dutch Ministry of the Interior (BVD) when Theo was born on the 23 of July 1957. Were they related to the famous painter with the same surname? Yes, Vincent was an uncle of Theo's father.
Theo was a stubborn and unruly child, his mother rejoiced when he had graduated, and she could kick him out. He was 18 at the time. He wanted to be a lawyer, but that fell through. His attempts to get accepted to the film academy were also unsuccessful.
But Theo was not easily deterred; he would make his own films, degree of no degree and yes, regardless of the academy's thought. He made a film called Luger; it wasn't well received. He made two more films, one called "Blind date" and the other one "In het belang of de staat" (In the interest of the state). And guess what, he received two rewards, one for each film, two golden calves, the highest award a filmmaker can get in the Netherlands.
Theo was a man of many talents.
He wrote a few books, nothing to write home about but, he also wrote columns for a newspaper and several magazines. He directed a few tv programs and hosted a chat show called "Een pittig gesprek" (a lively conversation).
Pim Fortuyn and Hirsi Ali
He was fond of Pim Fortuyn, a gay right-wing politician who did not like Muslims and Islam. He was consequently shot and killed in 2002 by an environment and animal rights activist of all things. Pim's ideas were radical and scared the shit out of every red politician. He was also popular; he became a political cult figure and could easily have become prime minister. You see why he had to die. You can't have an openly gay man, who accordingly to himself liked to have intercourse with young Moroccan boys and hated Muslims and Islam become prime minister of a country like the Netherlands. Here, in Holland, we were then still all integrating! Of course, by that time, nobody believed that anymore; I mean, nobody wants to integrate! Everyone likes to stay in his own culture, and certainly his own religion.

But back to Theo, he was also close to Ayaan Hirsi Ali, a brilliant Somalian woman who had come to The Netherlands and was soon adopted by a socialist political party and trumped around like a trophy of integration. Her problem was that she also disliked Muslims and Islam; she had been raised in an Islamic family and wanted nothing to do with that faith anymore. She consequently moved to a moderate right-wing party that expressed at least some tolerance to her viewpoints.
Theo's dying moments
On Tuesday morning, November 2 2004, Theo rode his bicycle through the Linnaeusstraat, close to where he lived when he was shot by Mohammed Bouyeri. Bouyeri then proceeded to cut his throat and stabbed him with a knife. It held a message to Ayaan, saying "you're next"! Theo and Ayaan had made a movie called Submission, which criticized Islam; therefore, in the eyes of Mohammed Bourayi, he had to die.
The man was apprehended rather quickly by police, who cornered him in a nearby park and was consequently sentenced to life imprisonment.
Theo was a fervent smoker and was not afraid to say so; he ran a website called "the healthy smoker." On it, he published stuff and thoughts he couldn't publish anywhere else.
Theo van Gogh is window number 49 on the Canon of Amsterdam.