What's more well known about Amsterdam than its famous red-light district? Perhaps the coffee shops but the first one only opened its doors in 1973 when prostitution was already well established in Amsterdam's most notorious district.
The Wallen (the walls) is the common name given to several streets and canals in one of the oldest areas of Amsterdam, where window prostitution is widely practised. Prostitution is not prohibited by law in The Netherlands. Most streets are located in the vicinity of the OLD CHURCH.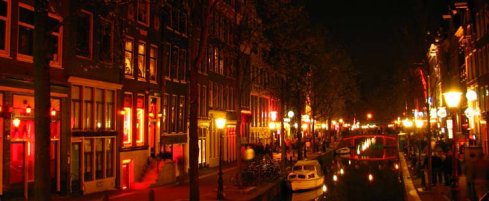 The area is in the English language called The Red Light District because the red lights hung from the facades of the prostitute's houses.
Red lights but pink or (rose) neighbourhood
In the vernacular, these areas are often called rose buurten (pink/reddish neighbourhoods). Besides "de Wallen", there are 2 more areas that have window prostitution in Amsterdam. Around the "de Singel/ Bergstraat/ Oude nieuwstraat" and on the "de Ruysdaelkade."
Street prostitution is prohibited in Holland and was often practised by drug-addicted young women. In the interest of hygiene, as this kind of prostitution was impossible to monitor, these streetwalkers have been expelled from the city.
Prosit utes can now work legally here with their own VAT tax numbers and are under continuous supervision by the City's health services.
Local law enforcement keeps a close eye on these areas making sure that forced prostitution is kept to a minimum. The streets are covered by CC TV cameras enabling the police to keep a close watch on what goes on and, if necessary, intervene.
Famous streets and canals in the district are "the Zeedijk," "the Trompettersteeg," "the Oudezijdsachterburgwal," "Oudezijdsvoorburgwal", and the Oudekerksplein.
Sex clubs and clubs with sex, there is a difference
Is there a super safe way to visit the red light district, leave all your possessions intact,
access a sex club and not get ribbed off?
Yes. Now don't go walking about with your expensive camera hanging around your belly and flash large sums of cash about. Pickpockets are also regularly active in this city, especially during the tourist seasons. The local government leans hard on the sex industry as they suspect they are part of criminal organizations and have been financed by dirty money.
Casa Rosso
Oudezijdsachterburgwal 106-108, Amsterdam. I won't mince about words. 'Erotic entertainment' is its trade. There's a continuous stream of erotically tainted shows on display, a few cucumbers acts and if your lucky, a lady will rub some breast in your face. Participation is encouraged but only to a certain extend. Reportedly all customers keep their pants "on."
You can stay as long as you like, there are a few "options" available, and there's a group discount arrangement, but you have to book in advice. The doormen know what could happen when 10 horny guys show up unannounced. A smart man could buy a double ticket that will allow him to visit the Bananabar as well.
Banana bar
Here you can stay for an hour and drink as much as you want. If you would like some special entertainment from the ladies, this will cost you extra, the more you want, the higher the price, sex, however, is not on the menu, that is with you, being a customer.
De Bananenbar is a bar where the woman wears little and can pluck a fiver with their lips of your beer glass. I don't know if that's still the practice, but the atmosphere must be seen in the light of the accompanying picture.
If you require 'special treatment' (no straight sex here),, it will cost you an extra 50 euros. Now you might ask, how does he know all that? Well, I read it in a magazine, what kind of magazine? Will be your next question, a reputable one, the "HP/ De Tijd" that featured a special on Mokum.
Furthermore…
Well, I don't know. The picture we have in our minds of sex clubs where you can actually have sex with women seems to be inaccurate. But you can try, of course. Why did I mention the two clubs above? Because they're reasonably well-reputed, and you don't get ripped off? On the other hand, shit happens, and you are and remain responsible for your own actions.
If anybody has any suggestions or a rather bad experience at either the Casa Rosso or the Bananenbar, I would like to be informed.
"De Wallen" is window number 44 in the Canon of Amsterdam.