Who Was Rembrandt van Rijn?
Rembrandt van Rijn was a Dutch painter and etcher who lived in the 17th century.
He is widely considered to be one of the greatest painters and printmakers in European art history and is known for his exceptional skill in capturing human emotion and expression in his works.
Rembrandt was born in Leiden, Netherlands in 1606, and showed an early aptitude for art. He studied under several notable artists before establishing his own studio in Amsterdam in 1631.
Over the course of his career, Rembrandt produced many masterpieces, including "The Night Watch," "The Anatomy Lesson of Dr. Nicolaes Tulp," and numerous portraits.
Rembrandt's work is characterized by his use of chiaroscuro, or the strong contrast between light and shadow, which gives his paintings a dramatic and emotional effect.
His subjects range from biblical scenes and historical events to portraits and landscapes.
Despite his success as an artist, Rembrandt faced financial difficulties in his later years and died in poverty in 1669. However, his legacy as a master of Dutch painting and printmaking has endured to this day.
Rembrandt disliked going to school but loved painting and everything about it.
He took an apprenticeship with a history painter called Jacob of Swanenburgh from Leiden and served with him from 1619 until 1622.
In 1625 he moved to Amsterdam where he took up another apprenticeship, this time with Pieter Lastman. He opened up a gallery in Leiden and tutored among many others, Carel Fabritius, Govert Flinck en Ferdinand Bol.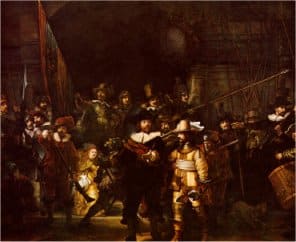 Constantijn Huygens convinced Rembrandt to move back to Amsterdam, he obtained many assignments and married Saskia of Uylenburgh in 1634.
After 3 miscarriages they finally had a son whom they called Titus. At first they lived in the Nieuwe Doelenstraat but later on , in 1639, they moved to the Jodenbreestraat, the building that is now known as the Rembrandt house.
Rembrandt and Saskia live beyond their means. Saskia died in 1642 and Rembrandt kept true to his word that he would not remarry.
This did not keep him from having affairs with his house keepers of which Hendrickje Stoffels was the most well known.
Necessity drove them to sell their house and they moved to an apartment on the Rozengracht.
In 1656 they had a daughter whom they called Cornelia, after Rembrandt's mother.
Rembrandt eventually died a pauper and was buried in a rented grave as he did not have the means to buy one.
De Nachtwacht (The Night watch)
Rembrandt's most famous painting by far is called the Nachtwacht (night watch). This masterpiece, a display of the guards, attracts a lot of tourists to the city each year.
He painted it in 1642, it was originally on display in the palace on Dam square, which in those days functioned as town hall.
The painting is officially owned by the city of Amsterdam and is since 1885 on loan to the Rijksmuseum.
It has it's own room named after it and that's being renovated as are indeed are the other rooms of the museum as well.
The museum is to reopen it's doors to the public again around 2013, whereupon the Nachtwacht will returns to it's familiar place.