Parks in Amsterdam are designated open spaces within the city that provide recreational areas, greenery, and amenities for residents and visitors. These areas offer opportunities for activities such as walking, jogging, picnicking, and relaxation amidst natural surroundings.
Amsterdam parks also often feature playgrounds, sports facilities, cultural attractions, and events, contributing to the city's livability and offering a break from urban life.
1. Vondelpark
Vondelpark is a well-known park in Amsterdam, named after a famous poet. It is a popular attraction in the city and offers diverse amenities for people of all ages, both locals and tourists.
Vondelpark was opened to the public in the year 1865.
Vondelpark boasts various attractions and amenities, including walking paths, lush greenery, ponds, playgrounds, and open spaces. It is a good spot for picnics, jogging, cycling, and relaxation. The park also features sculptures, an open-air theater, cafes, and cultural events, providing visitors with a diverse and enjoyable experience.
Things to do at Vondelpark:
Sip refreshing drinks at the modernist Blauwe Theehuis (Blue Tearoom).
Experience free open-air concerts in summer and ice-skating in winter.
Admire Picasso's fish sculpture, an artistic highlight.
Explore the modernist Blauwe Theehuis resembling a giant flying saucer.
Stroll through the quaint rose garden created in 1936.
Discover a sculpture by Picasso by heading south.
These activities provide a range of enjoyable experiences at Vondelpark.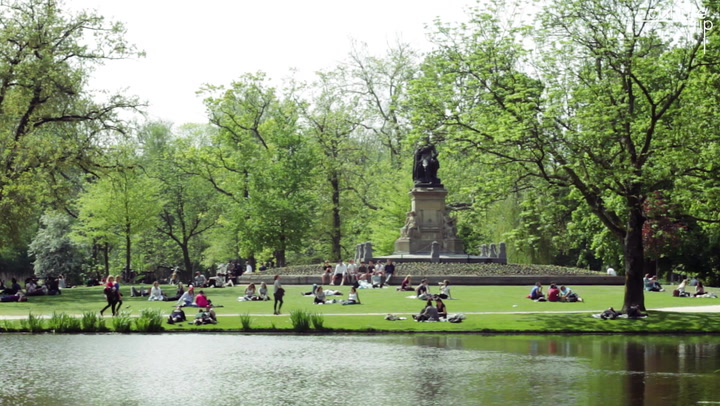 2. Amsterdamse Bos (forest)
Amsterdamse Bos, also known as the Amsterdam Forest, is a large recreational area located near Amsterdam. It was artificially created in the early 20th century and offers diverse natural landscapes, including forests, meadows, and bodies of water.
The Amsterdamse Bos provides opportunities for outdoor activities such as walking, cycling, boating, and picnicking, making it a popular destination for both locals and tourists seeking nature and leisure.
Things to do in Amsterdamse Bos:
Enjoy picnics in picturesque meadows.
Go boating or canoeing on the park's lakes and waterways.
Visit the goat farm Geitenboerderij Ridammerhoeve, where kids can pet goats and sample goat's milk ice cream.
Play sports like soccer, volleyball, and tennis on designated fields and courts.
Explore the Tree Adventure climbing park for an active experience.
Attend cultural events, concerts, and outdoor theatre performances.
Discover diverse plants and wildlife in the park's natural habitats.
Have a barbecue in designated areas.
Experience horseback riding at the park's riding stables.
Visit the visitor centre for information and exhibits about the park's history and ecology.
Watch rowers ply the Bosbaan, a rowing course located within the park.
See artworks by Tom Claassen, Serge Verhuegen, and others, enhancing the park's artistic charm.
Jump aboard the historic tram to ride along the park's green edge, offering a unique perspective on the surroundings.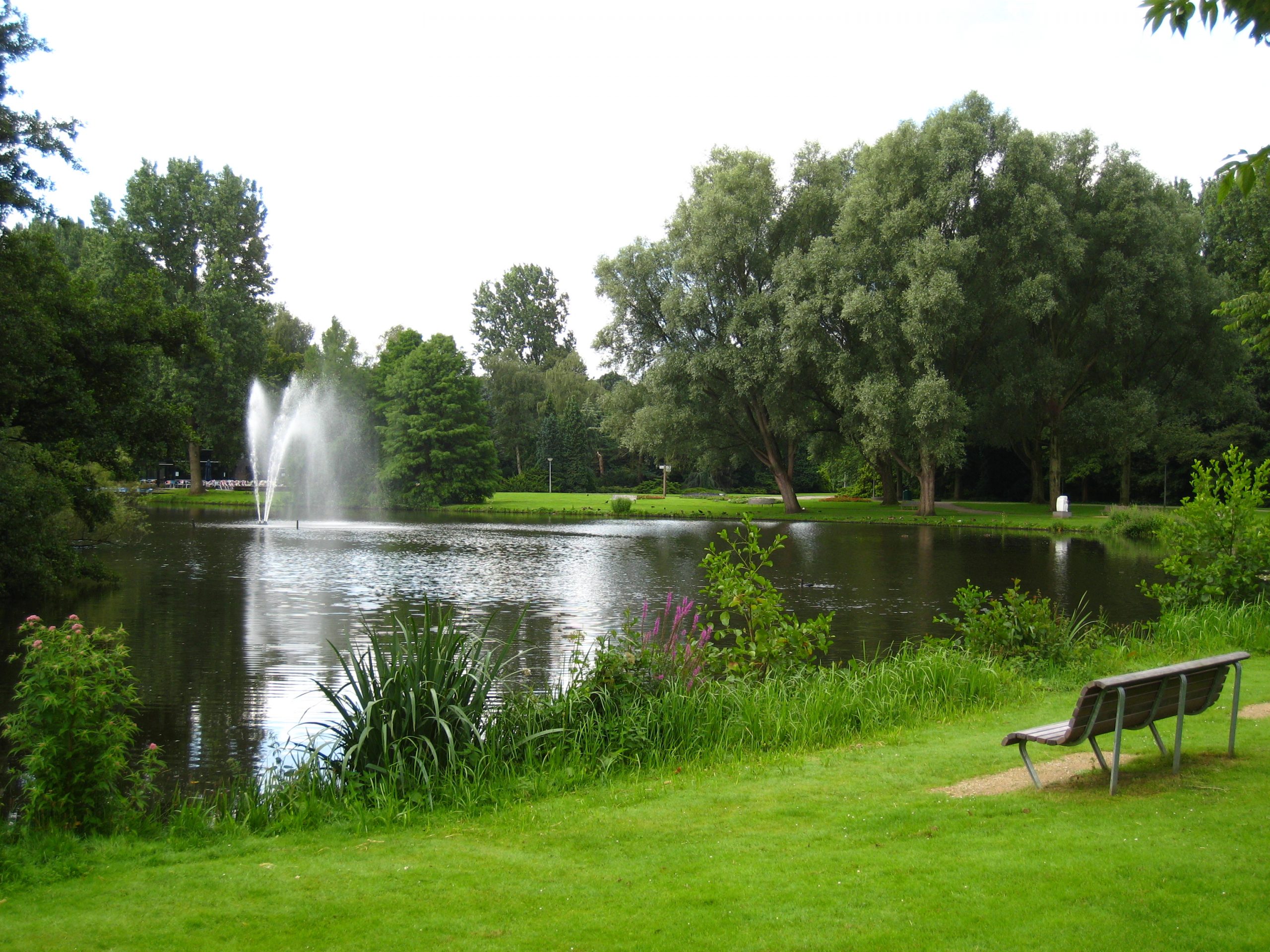 3. Sarphatipark
Sarphatipark is a public park located in the De Pijp neighborhood of Amsterdam. It is named after Samuel Sarphati, a 19th-century doctor and city planner. The park features walking paths, green spaces, a pond, and various plantings. It's a popular spot for locals and visitors to relax, exercise, and enjoy outdoor activities.
Things to do in Sarphatipark:
Enjoy a leisurely stroll or find a quiet spot to relax on the park's green lawns.
Take a walk or jog along the park's walking paths to stay active.
Spend time by the pond, watching ducks and other wildlife.
Explore the old pumping station, which is now on Amsterdam's heritage list.
Walk around the edge of the park to admire the beautiful houses nearby.
Sit by the tranquil ponds and admire the monument to Samuel Sarphati, the park's namesake.
4. Westerpark
Westerpark is a public park located in the western part of Amsterdam. It was originally a former industrial area that was transformed into a recreational space.
Westerpark features walking paths, green spaces, ponds, and cultural attractions. It is known for hosting events, festivals, and markets, offering a mix of relaxation, art, and entertainment for locals and visitors.
Things to do in Westerpark:
Find a cozy spot on the grass or a bench and unwind in the park's serene atmosphere.
Explore the park's walking paths, perfect for a leisurely stroll or a jog.
Visit cultural venues like Westergas, which hosts events, exhibitions, and performances.
Admire the various sculptures and art installations scattered throughout the park.
Discover the cafes and restaurants around the park for a meal or a cup of coffee.
Sit by the canal and watch boats pass by or enjoy the water views.
Sit on the hill overlooking the pond, which is a popular spot to dip your toes in the water during summer.
Sample chocolate at Tony's Chocolonely, adding a sweet treat to your park visit.
Show your pride during the Milkshake Festival, a vibrant event held in late July or early August.
Hire a boat and cruise along the Harlemmerweg canal into the city center, a unique and picturesque experience.
Explore the enchanting community garden complex that adjoins the green space, open during the summer.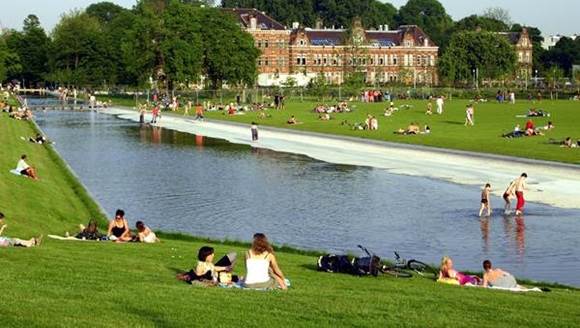 05. Wertheimpark
This tiny and obscure park is close to Artis (The Zoo) and the Hortus Botanicus (botanical gardens). Maybe it's not really worth mentioning, but I like the place. It's the only park in town located in the city's central district—a five-minute walk from Waterlooplein, aka the flea market.Auschwitz monument of Jan Wolkers.
The recently deceased writer/artist Jan Wolkers in 1977, created a new Auschwitz monument in remembrance of the victims of this German extermination camp during the second world war.
The monument is made up out of broken glass, symbolizing the never to be restored heaven. Vandals have wrecked the monument several times, but it's been repaired every time.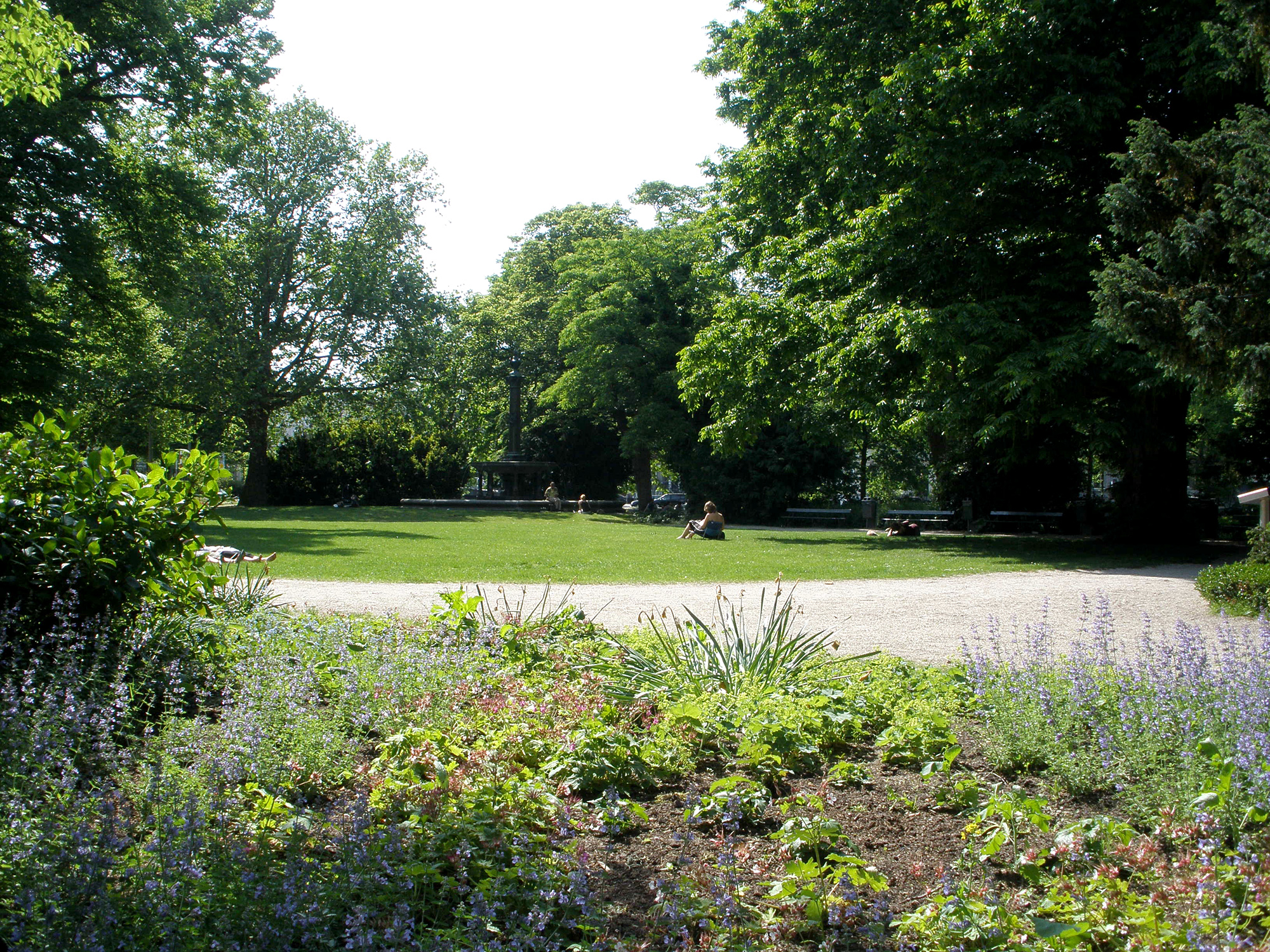 06. Flevopark
This park differs from the others in that it has a totally different layout. It's located on the east side of the city and distinguishes itself by having a far more natural look. The Jewish Cemetary is a part of this park/nature reserve.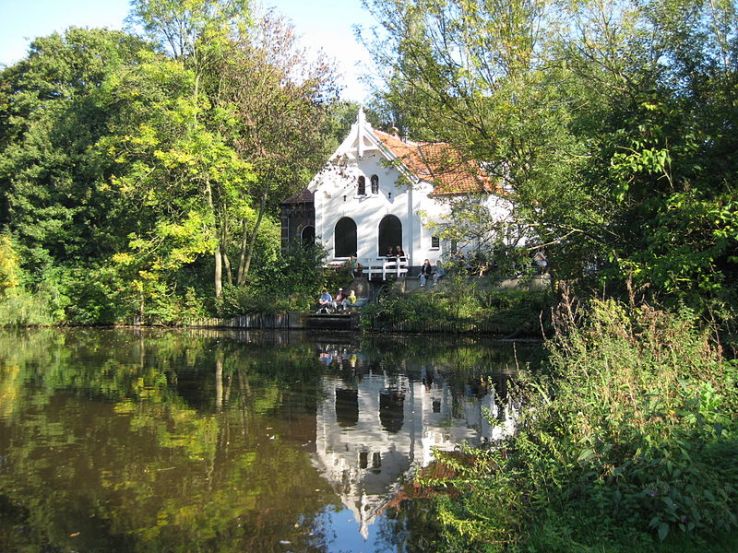 07. Oosterpark
This park became nationally known when a monument for the murdered Theo of Gogh was erected there. It can be reached by tram line 3, get off at the hospital OLVG. This park is an oasis of rest in a bustling neighborhood. Theo of Gogh was a descendent of Vincent; they were related to Link.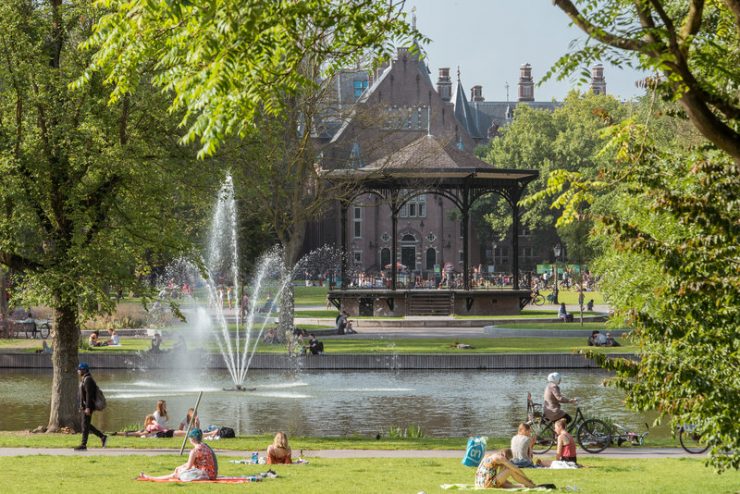 08. Sloterpark
Around the more than fifty-year-old lake, a park has been formed that seems to belong to the locals-only, at least that's the feeling you get when you go there. The park is located in the western so-called garden cities (neighborhoods with lots of green in them). These are Slotermeer, Geuzenveld, Slotervaart, Overtoomse Veld, and Osdorp. It has swimming, rowing, sailing and fishing facilities.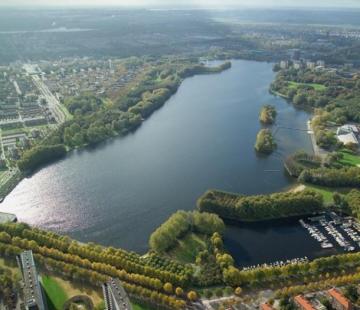 09. Martin Luther Kingpark
This is a reasonably small park, not very interesting unless you live in the neighborhood and own a dog. However, it has a field for dogs to run and play on. The park lies on the Amstel river where the highway to Utrecht begins, in the city's southern district.
The one thing for what this park is known for is that once a year (usually in August), an open-air theatre descends on the place called The Parade. Although, actually, it looks more like a fair than a theatre; there's also music and dancing going on, tables, benches and chairs to sit on, and things to eat and drink.
10.Amstelpark
In 1972 the Floriade (a flower exhibition) was held in Amsterdam, the Amstel park was created to host it. The park is situated in the southern district, just down the river from the Martin Luther Kingpark. The park is extensive, has a children's farm and a children's train to ride on. It has ponds, fields, and woody areas. The park borders the Amstel river and the Amsterdam ring road.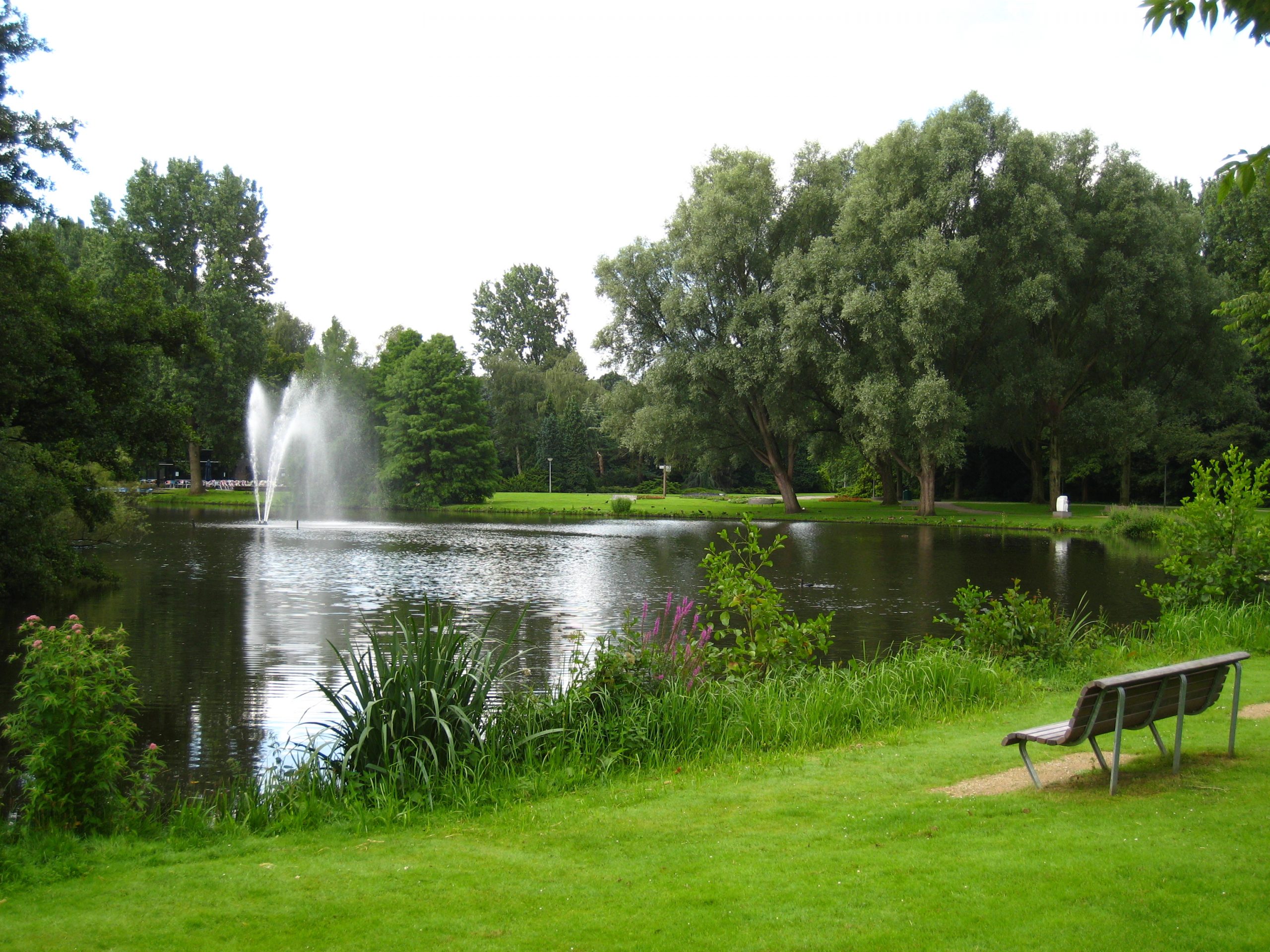 The area around the park is great to ride your bike or jog in, especially the path and roads along the river.
In conclusion
Multi-functional Parks like Sloterplas will attract many visitors, but inner-city parks like Vondelpark, Sarphatipark, and Oosterpark fulfill an even greater need. They're great for parents with small children as they all have play areas with sandboxes, slides, and swings. They also offer solace for the elderly and a place to meet dog people. In addition, the grassy fields are great for sunbathing, playing ball, or picnicking.
If you're looking for peace, Flevopark will give you that, but Vondelpark and Oosterpark also have quiet corners where you can retreat. In addition, guys in Vondel and Westerpark will often get together and hold Jam sessions, particularly during summertime.