The Amsterdam marathon takes place every third Sunday in October. If you'd like to participate, it's possible to register online. Besides the regular marathon, you can also choose to run half of one or a mini-marathon, and there are two other runs available as well.
The course of a marathon is 42,195 kilometres long. The Amsterdam version is the second most important one in The Netherlands; for some reason, the run in Rotterdam takes pre-eminence. The first marathon run in Amsterdam was during the Olympic games of 1928. it was won by a Frenchman; it took him over 2 hours and 35 minutes.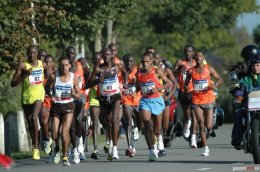 The current record stands at 2.06 minutes.
The marathon of Amsterdam is a flat, vast track known for its fast track as there are no hills or mountains around the city. Its course takes you along some of the city's best-known and often historical locations; the marathon puts Amsterdam back on the map again, at least for a while.
The public is granted free access to the Olympic stadium during the event, and entertainment is provided. During the happening many locals like to line up at the track to encourage the runners.
Limited Parking
The parking facilities are not the best; the city encourages people to come by public transport. Free parking may be available but that's like finding a needle in a haystack!
To get to the Olympic stadium, we give you the following directions:
From Central or Amstel Station:
– Metro line 51 in the direction of Amstelveen Middenhoven
– Change at Zuid/WTC: Take tram 50 in the direction of the Isolatorweg
– Get off at Amstelveenseweg
From Duivendrecht/RAI/Zuid/WTC:
– Metro line 50 direction Isolatorweg
– Get off: Amstelveenseweg
From Sloterdijk:
– Metro line 50 direction Gein
– Get off Amstelveenseweg
The fastest Dutchman to ever run the race was Koen Raymakers in 2010. His time was 2.13. Last year about 9000 runners competed, the numbers increase every year.