In 1987 a statue was placed at the entrance of the Noorderkerk (northern church) called 'Unity is the strongest chain' by Sophie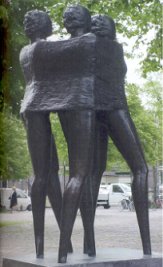 Hopkins.
The sculpture is dedicated to those who left their lives during the uprising in the Jordaan district in 1934. The national government had decided to lower the amount paid out in unemployment benefits. The people of the Jordaan district, a quite poor neighbourhood, organized a demonstration at the offices of the National Socialist Party. The police decided to intervene, block their access to the buildings and thwarted their plans.
Things turned rather nasty with the police being pummeled by rocks; they felt threatened and opened fire. Shit hit the fan in the Jordaan on July the 5th, 1934.
Residents wanted to block the neighbourhood from police access. Prime minister Colijn personally came down from the Haque to observe the situation. Instead of compassion and dialogue, he went for the concept of tough love. The army was called in to free the neighbourhood. The resistance lasted no more than two days; it resulted in five dead, 50 wounded and 100 arrests.
Although the Jordaan district wasn't the only neighbourhood in which protests took place at no other location, the anger and damage were so great there. That's why those days are now referred to as the "Jordaan insurrection."
After the incident, the damage done to streets and bridges was repaired. Still, to avoid such events from happening again sometime in the future, a new corps known as the carbine brigade was created, a kind of mobile emergency unit.
Law enforcement agencies also used intimidation, house searches, and arrests at the communist movement to undermine and discourage underground resistance.
The Jordaan insurrection is window number 39 on the Canon of Amsterdam.