Hendrik Johannes Cruyff was born in the Linnaeusstraat in Amsterdam on the 25th of April 1947. The baby was to become The Netherlands best football player ever. He was proclaimed Europe's best soccer player of the 20th century.
Johan grew up facing What was then the Ajax home ground De Meer (the lake). After his father died in 1959, the family moved to the street we all came to know so well, in Betondorp (concrete village).
It wasn't until after he married in 1968 that "Jopie" (only to his close family and friends) moved out of his paternal home.

Johan married the daughter of one of Amsterdam's best-known businessmen, Cor Coster.
On December 2 1968, he took Danny Coster as his wife. They had three children, Chantal, Susila, and Jordi, who became a football player and coach. Johan and Danny are still married today.
The Surname: Cruijff Cruyff, Cruif, Cruiff, Cruyf, Cruijf
As Cruijff was his father's surname, it also became his, but as the "ij" is somewhat hard to pronounce in some countries, the letter y is often used.
The Ajax years
Johan joined Ajax in 1957, at the tender age of 10. He appeared on the main team when he was 17; people immediately recognized his insight into the game and his sharp analyses.
For me personally, everything changed from the day I first saw Johan on the field; I thought, my God, he's skinny. I hope his legs don't break, and the "hair," Johan was the first long-haired football player in The Netherlands.
Of course, that all went out the window after I saw him play. That's what we call what football players do, but with Johan, it was different; he actually "played" with the ball and his opponents.
He would pass three men by keeping the ball high above his head, heading it over one player after the other at full speed.
He would lift the ball behind him with his feet and tip it over himself and his opponent. His ability to go from zero to 30 was astonishing.
He had only played a few matches before he was asked to join the national team. His entry into the world of soccer changed the way I related to the game.
Until then, I had been more interested in playing the game than watching it on tv. From then on, I ensured I was in front of the tube on Sunday nights at 7 o'clock. I would ask my dad: is Cruijff playing? Is he playing?
Cruijff was a forward, a left forward, to be exact, but he didn't feel limited by his position on the field. It wasn't long before he was everywhere, dictating to the team, spurring them on and driving the other side mad.
Johan and Ajax won six national championships and four national cups together. He was part of the most successful team that the Netherlands ever produced.
They won what is now known as the champion league three times in a row and once the world cup for club teams.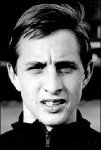 He was named European player of the year in 1971, 1973, en 1974.
In his early days, he wore shirt number nine, which later changed to the legendary number 14.
Ajax no longer uses that number; 13 is fine, and 15 is also no problem, but 14 belongs to Johan; no one will ever wear that number again.
The Barcelona years
Cruijff moved to Barcelona; we couldn't believe it; Amsterdam was devastated, and we felt betrayed.
Transfers weren't as common then as they are now, and for an icon like Johan to leave his city and country was more than somewhat of a shock.
Barcelona paid Ajax six million for its star, the first time a Dutch team was paid over a million for a player. Cruijff spent four years with Barcelona and led that club to great heights.
Of course, it wasn't all Johan that had done it; Ajax and the Netherlands also had a coach named Rinus Michels. Rinus had moved to Barcelona the year before, and it was on his recommendation that they brought Johan to Barcelona.
The city by the same name is the capital of Catalonia, a region in the northeastern part of Spain. It has its own language and culture and would like to gain independence from Madrid.
Those were still the days when Franco held sway in Spain, a contemporary of Adolf Hitler. The Catalonians hated him because, under his reign, they were not allowed to speak their own language or express any elements of their culture in any way.
Johan and Rinus team 'Barca' became a political tool in the hand of its supporters and, indeed, of the whole Catalonian population.
For the first time in 15 years, Barcelona could defeat Real Madrid and win the championship. Johan was called El Salvador (the saviour). During that season, they beat Real Madrid in Madrid by 5-0.
Johan would stay a total of 6 years with Barca. After that, he felt he'd had enough; he was given a farewell match by Ajax which they lost 8-0 of Bayern Munchen.
Cruijff went into business only to discover that that was not his best talent; he trusted the wrong people, and they took him to the cleaners. He saw himself forced to do what he did best again: play football.
The American years
Rinus Michels left Barcelona and went to the United States. He became the coach of the Los Angeles Aztecs.
Rinus wanted Cruijff on his team, and Cruijff heeded the call. He stayed in L.A. for a season and then moved to the Washington Diplomats.
Johan spent two seasons in America (1979 and 1980); consequently, he was named America's football Player of the Year twice in a row.
Ajax again
Cruijff went back to Ajax, his first love.
America had been great financially but nothing like Europe to Johan as far as football was concerned. Cruijff and Ajax won both the championship and the national cup the next years in a row.
At the end of his 2-year contract, Cruijff had reached 36 and had been injured quite a bit during the last season.
Ajax did not want to extend his contract; they feared he wouldn't make it.
The Feyenoord years
Cruijff was pissed off!
Now Holland has two major football cities, Amsterdam and Rotterdam. Rotterdam is a town that derives its name from the river Rotter on which it is situated.
I believe that the English word "rotter" is of Dutch origin and refers to the people of Rotterdam. (That's not true, of course, but in the spirit of football and competitiveness, it makes perfect sense). Iowa.
Feyenoord and Rotterdam are where football is concerned with the enemy. The two teams are the greatest rivals in Dutch soccer.
As I said, Cruijff felt he had something to prove! As he had done with Ajax, so he did with Feyenoord, he won the double, cup and championship for his team once more and was proclaimed Dutch football player of the year. It would be his last.
The years as an international
Johan Cruijff had a great scoring average, he didn't always choose to play for the national team, only 48 times, but he scored 33 goals in those 48 matches.
He functioned as a team captain for 34 games. Cruijff did not like to take unnecessary risks; he cared for his body and avoided getting injured if possible.
He didn't play if he didn't deem it necessary; for instance, he refused to play practice matches, nor did he play against dwarf teams like Andorra or Luxembourg.
He was captain at the world cup championship in 1974 and the best player of the tournament. Holland lost the final against host Germany. Cruijff didn't play well.
Some German journalist had taken pictures of him and the team at the hotel swimming pool in the company of naked girls.
As they say, all is fair in love, football and war. Germany's favourite gossip magazine Bild had set this up to discredit the Dutch team and get to them.
Holland should have won the match as they were the better team, but the Germans succeeded in their attempts and became the official world champions.
1978 Argentina
Again we lost the final against the country that hosted the games. Again it was the world cup, and Holland was the runner-up.
The blame was laid at the feet of Johan Cruijff, who had decided to stay home; when asked why he didn't go, he replied, "he didn't feel like going."
It was like a black page in what was otherwise seen as a perfect career. It wasn't until 30 years later that the truth finally came out.
Several shooters held the Cruijff family hostage at their house; they intended to kidnap Johan.
Fortunately, they failed, but he chose to stay with his family instead.
Cruijff as coach
Johan had it in him to become a top coach; it was thought that with him at the helm.
The Netherlands would no longer be the runner-up at the next world championship.
It was not to be; he only coached his favourite teams, Ajax and Barcelona. His time with Barca especially was very successful.
The Catalonians team
In Catalonia, Johan Cruijff is still treated as a hero. The people love him; everybody knows his name.
He lived in Barcelona and rented an apartment near Vondel Park in Amsterdam. People take it for granted that his address remained private because of what happened when he and his family were held hostage and almost kidnapped.
Of course, quite a few folks knew where he lived; he was not a person that could walk around unnoticed.
Johan was asked in 2009 if he would function as a coach for the Catalonian (national) team. Of course, officially, Catalonia has no national team as it is part of Spain.
Nevertheless, Catalonia has a team of players with their roots in Catalonia. It played its first match in 1912 against France.
The team would only play one or two matches a year. Cruijff saq the humour in it and agreed.
And guess what happened? In typical Cruijff fashion, both matches played under his supervision were won. Argentina was defeated 4-2 and Honduras by 4-0.
Other activities
Cruijff was not a man to sit. Still, he tried his hand at business and didn't do too well; he went into pigs, football shoes and appeared regularly on tv to comment on international or European championship matches.
Johan was like a curt; he didn't mince his words. PSV Eindhoven, the country's current second-best team, complained about him. Johan decided it wasn't worth it and quit.


He wrote columns in the daily The Telegraph, The Netherlands biggest and most superficial newspaper.
A friend wrote them in his name; Cruijff provided the material, the insight and the commentary by phone.
Johan fulfilled the role of an advisor, both by Ajax and Barcelona.
The Dutch national football association knighted him. Barcelona honoured him with the title of honorary chairman when, however, a new chairman was chosen who had a bone to pick with Cruijff.
He decided that there was such thing as an honorary chairman within the statutes of the football club Barcelona. Cruijff returned whatever it was that they had given him to symbolize his honorary chairmanship the next day.
Cruijff refused to comment on the incident. Some say this was extra motivation for him to accept Catalonia's national coach position.
Johan Cruyff was also an honorary member of Ajax; not many people were given that honour until recehonour. His old teammate Sjaak Swart, Mr Ajax, was only recently granted this.
Johan Cruyff Exclamations

Johan Cruyff was famous for his statements; whole websites are dedicated to them.
The ball is round, is. As far as I know not a football idiom that originated with Cruijff, but he is responsible for the Spanish version of it, "la pelota Esta Redonda".
It means that the strongest team doesn't always win the game. Another one is "If we possess the ball, the other team can't score", "You can't win if you don't possess the ball," "If you want to score, you need to shoot" are a few more onliners that proceeded from the mouth of Cruijff.
Here's another Spanish one he's credited with, "en un momento dado". The word dado is not used in regular Spanish; it has to do with divine acts.
In Barcelona, he was often called El Salvador, the saviour; this exclamation may have added to him being given this blasphemous title.
A famous Dutch citation of his is, "are you score one more goal than the other team you've won." "Every disadvantage has its advantage" is another one credited to Johan.
Cruyff as benefactor
Johan started The Cruijf Foundation, which collects money for disadvantaged children worldwide. He also told his donors what happens to the money and where it goes.
It builds so-called Cruijf courts, and football fields where children can safely work out and learn to play football or basketball.
The courts are supervised, so there's a large measure of safety, and the children have something else to do than hang around the streets and get in trouble.
Each year the foundation holds a Cruijff Foundation Cup.
Johan Cruyff Death
Johan Cruyff passed away on March 24, 2016. He died at the age of 68 in Barcelona, Spain, after a battle with lung cancer.
Johan Cruyff's death saddened football fans worldwide, as his contributions to the sport went far beyond his playing days.
He left an enduring legacy, not only as a footballer but also as an advocate for positive change in the game.
His impact on football philosophy and his commitment to nurturing young talent continues to inspire future generations of players and coaches.
Conclusion
In the thirty years Johan Cruyff played football or coached teams, he has won 64 prizes, an average of two a year.
Cruyff loved his fags, (cigarettes) until he got a heart attack; that was it for him; for quite some time afterwards, he got to be seen coaching from the sideline with a Lollie in his mouth.
He also participated in an anti-smoking commercial.