The Cat Cafe in Amsterdam is a unique and delightful establishment that combines the love of cats with a cozy cafe setting. It's a place where visitors can enjoy delicious beverages and snacks while also spending quality time with resident cats. These adorable feline friends roam freely within the cafe, creating a relaxing and enjoyable environment for cat enthusiasts and those seeking a break from the hustle and bustle of city life.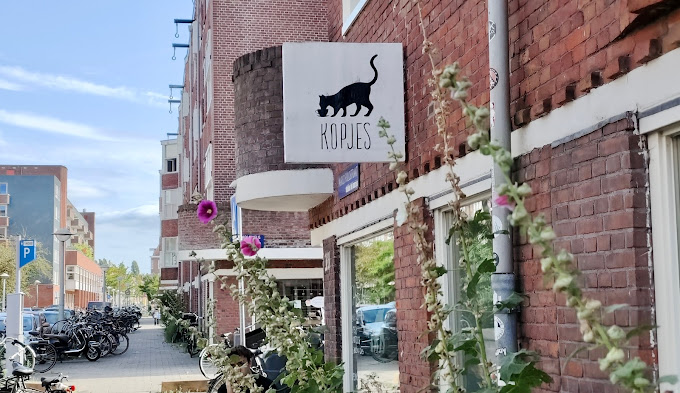 Let's dive into what makes Kopjes the perfect (or should I say purrfect) destination for cat enthusiasts and café connoisseurs alike.
Kattencafe Kopjes (The Cat Cafe) Location
Kopjes, the charming cat café in Amsterdam, is located at Marco Polostraat 211, 1057 WK Amsterdam, Netherlands.
Situated in the heart of Amsterdam, this cozy haven is easily accessible and awaits cat lovers from near and far.
Plan your visit to Kopjes and prepare to be enchanted by the delightful feline company and the warm atmosphere that awaits you.
The Cat Cafe Story
It all began with a shared passion for cats and a desire to create a unique space where humans and felines could mingle and find solace in each other's company.
The founders, who are ardent cat lovers, envisioned a place that would not only provide visitors a delightful experience but also promote rescue cats' well-being and adoption. With this noble intention, Kopjes Cat Café came into existence.
The concept of cat cafés originated in Taiwan in the late 1990s and quickly gained popularity across the globe.
These establishments offered a haven for cat enthusiasts who may not be able to have pets of their own due to various circumstances.
Inspired by this concept, Kopjes Cat Café opened its doors in Amsterdam to provide a haven where people could relax, enjoy delicious treats, and interact with friendly feline companions.
The founders collaborated with local animal shelters and rescue organizations, creating a partnership to give shelter cats a second chance at finding loving homes forever.
The café serves as a temporary residence for these cats until they are adopted by caring individuals or families.
This unique concept has brought joy to countless visitors and has also played a significant role in promoting cat adoption and raising awareness about animal welfare.
A Welcoming Oasis of Feline Joy
Step into Kopjes and prepare to be enchanted by the playful and lovable resident cats.
With a total of seven furry friends, each with their own distinctive personality, Kopjes offers a rich and varied cat experience.
Whether you're seeking a lap cat craving affection or an independent feline engrossed in their own world, there's a cat companion waiting to capture your heart.
A Cozy Ambiance for Relaxation and Delight
Kopjes provides a cozy and inviting space where visitors can unwind and immerse themselves in the calming presence of their feline hosts.
Sit in one of the ample seating areas strategically placed to ensure optimal cat-watching opportunities.
Observe as the cats explore their surroundings, play with toys, or curl up for a blissful nap in their plush beds.
What's on The Menu at The Cat Cafe?
Satisfy your culinary cravings with a range of delightful offerings at Kopjes.
Indulge in a selection of drinks, including aromatic coffees, soothing teas, and refreshing beverages.
Pair your chosen drink with a delectable treat, such as the mouthwatering almond cake or the scrumptious croissants with fig jam.
Kopjes ensures that your taste buds and soul are fully nourished during your visit.
Warmth and Hospitality
At Kopjes, you'll encounter a friendly and attentive staff dedicated to creating a memorable experience for every visitor.
They are passionate about the well-being and care of the resident cats, ensuring a harmonious and safe environment for both feline and human guests.
The staff's knowledge about the cats and their commitment to their welfare create an atmosphere of genuine warmth and hospitality.
Are Reservations Needed?
To ensure a seamless experience, making a reservation in advance at Kopjes is highly recommended.
Due to fire regulations, the cafe allows 17 people at one time, so make sure you book in advance using this link.
This guarantees your spot in this cozy oasis of feline charm. Additionally, please note that there is an entrance fee of 4€ per person, a small contribution that goes toward the care and comfort of the cats.
The cafe is open from Wednesday to Sunday, 10 AM to 7 PM.
Visitor Testimonials: Sharing the Joy of Kopjes
Visitors to Kopjes have raved about their enchanting experiences, expressing their delight and appreciation for the café's unique aura and the delightful interactions with the resident cats. Here are some of the heartwarming testimonials shared by Kopjes enthusiasts:
"A cute place with tasty almond cake and cats! The staff is very friendly and helpful. Great place to go hang with some cats and enjoy a snack."
"The cats are so well taken care of, and the employees there are just lovely. The place is extremely clean and overall such a lovely spot to visit!"
"Kopjes had seven wonderful cats to pet and play with! The blueberry cheesecake and iced tea were delicious as well. I will definitely visit again!"
Visit Kopjes: A Whisker-Softened Escape
If you're seeking a memorable experience that combines the love for cats with delightful refreshments, Kopjes is the place to be.
Immerse yourself in the enchanting world of Kopjes, where furry companions and culinary delights intertwine to create an unforgettable ambiance.
Whether you're a local Amsterdam resident or a curious traveler, Kopjes promises an experience that will warm your heart and leave you with a smile.
Make your reservation today and embark on a purrfect journey at Kopjes, Amsterdam's beloved cat café.