These instruments are quite popular in The Netherlands; you'll see them on the cities streets and hear them coming from a long way off. They're usually accompanied by two or three men, one steering, moving and turning the wheel on the instrument while the others collect money from passers-by in old fashioned copper cans. These they loudly rattle to attract your attention and have you donate some change.
An Italian man called Ludovico Gavioli, in 1850, build a small barrel organ. His son managed to get it to play a tune by sticking a book with holes in it. It was not really a book as we know it; it was more of a carton scroll that folds together in zig-zag format. Air pressure gauges read the holes and cause it to play tunes on certain instruments. That could be an organ but also percussion, an accordion or a xylophone.
The carton scrolls are quite vulnerable and rather heavy and were soon to be replaced by scrolls of paper. Nowadays, they are usually directed by computers and are seldom seen to be operated by hand anymore. A generator takes care of the turning of the wheel.
The Perlee family
The Perlee family is the oldest barrel organ building family in The Netherlands. The company still exists and is situated in the Westerstraat 119.
Their barrel organ called Arabia (Arab) is well known; its reputation extends far beyond Holland's borders. It's also on the national heritage list.
Their company was founded in 1875 and is now called the Gijs Perlee barrel organ museum and is located on the Westerstraat in the heart of the Jordaan district.
Another one of their organs is called the Puntkap, and it and Arabia are on display at the museum, but there is still work going on there. New organs are being built and old ones restored by making use of 19th-century equipment. It's all there for your eyes to see, this old craftsmanship, but there's more; you can also make use of the opportunity actually to operate one of the big instruments. To put a scroll in its place and turn the big wheel and let the music come out.
What makes this museum unique is, among other things, the romantic feeling of times long past. You smell the wood, the glue, and the leather, and you hear it being tuned.
Organ pipes made out of wood
A barrel organs pipes are made out of wood; bellows send air through the pipes, and sound comes out. The main difference between a barrel organ and other pipe organs like a church organ, for instance, is that the others are directed by men while the barrel version is directed by carton or paper scrolls. While it is true that the organ master turns the wheel which makes the airflow, the actual music comes from the organ book and not from his fingers.
Are they typically Dutch or not?
There used to be more than 300 organ making companies operating in Germany, Italy, Belgium and France. While most of those supplied churches have been stated that barrel organs aren't really all that typically Dutch, well, we beg to differ.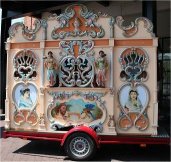 The barrel organ phenomenon is only seen in the Netherlands; while pipe organs are quite common worldwide and are used in many churches and at home, barrel organs are not. Now a barrel organ is technically a pipe organ; the difference is that it's directed by a scroll and not by a person's fingers, and it is usually mobile. The barrel organ masters of the streets play all sorts of music, from typical classics like "Tulips from Amsterdam" to Michael Jackson and Ricky Martin.
One of the organs is often seen on her Damrak, near Dam square; the markets in the Jordaan district are also famous organ hangouts. Don't be surprised to meet the organ De bandit (the bandit) there. Organs first appeared on the Amsterdam streets around 1868, at least that's when they first became legally permitted to ply their trade. If I'm wrong, please don't hesitate to correct me.