Windmills are an integral part of Amsterdam's cultural heritage and have significantly shaped the city's landscape and history. While many historic windmills have disappeared over the years, some can still be found in and near Amsterdam.
Amsterdam has well-known windmills like Zaanse Schans and hidden gems like De Gooyer and De Bleeke Dood.
Windmills in Amsterdam
There are 6 windmills in Amsterdam, and they are listed below.
De Gooyer Windmill
Molen Van Sloten
De Bloem
De Otter
Riekermolen
d'Admiraal Windmill
1. De Gooyer Windmill
The "De Gooyer Windmill" is the tallest wooden windmill in Amsterdam. It was made in 1725 to grind corn. The windmill is not working anymore because it got damaged in 1972.
Adjacent to the windmill is the famous Brouwerij 't IJ brewery, offering tours and various craft beers.
Though the windmill itself cannot be visited, the brewery provides an excellent opportunity to enjoy Amsterdam's finest craft beer. It is conveniently located near the city center.
De Gooyer Windmill is a must-see for its historical significance and association with the nearby brewery.
De Gooyer Windmill Location
De Gooyer Windmill is located at Funenkade 5, 1018 AL Amsterdam. It's easily accessible by bike, public transport, or walking from central Amsterdam.
2. Molen Van Sloten
Molen van Sloten, also known as The Sloten Windmill, is a functional draining mill situated in Sloten, Amsterdam. It operates to pump surplus water from the former Haarlemmer Lake (Haarlemmermeer) region.
The windmill was reconstructed in 1847. Visitors can enjoy an audiovisual presentation on Rembrandt's life and explore the model exhibition "Amsterdam and the Water," depicting the landscape in 1630.
The Sloten Windmill offers guided tours, allowing people to witness its functionality and history up close.
Molen Van Sloten Location
Molen Van Sloten is located at Akersluis 10, 1066 EZ Amsterdam. You can reach it by bus or tram.
3. De Bloem
De Bloem, a flour mill, was originally situated on Bloemgracht in the Jordaan. Like de Gooyer windmill, it was later moved to a more favorable and windier location.
Today, the mill serves as an office and is accessible to the public only on National Windmill Day. Originally a corn mill, De Bloem was built in 1768 and relocated to its current position in 1878.
De Bloem Location
De Bloem is located at Haarlemmerweg 465, 1055 PK Amsterdam. Accessible by public transport or bike.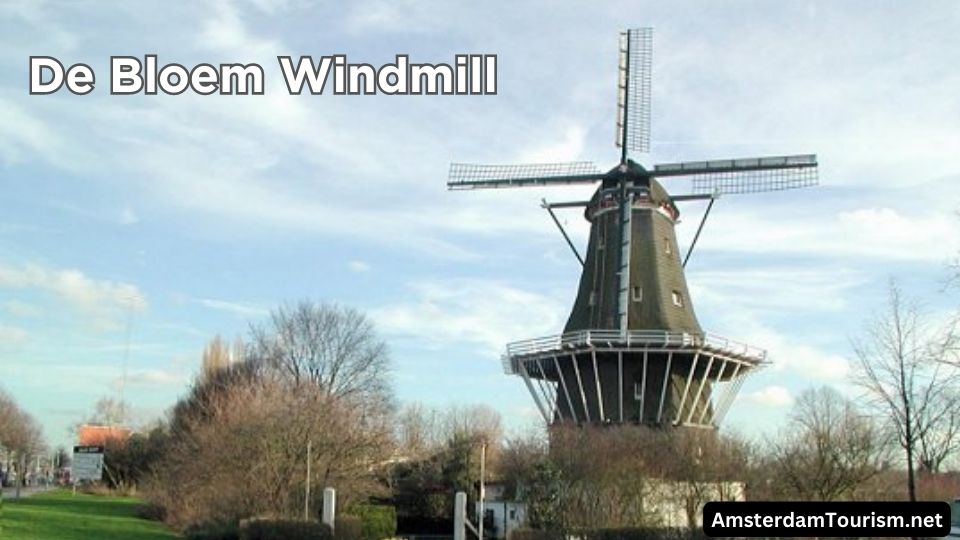 4. De Otter
De Otter is a small paltrok sawmill built in 1631, located not far from Amsterdam's city center. It was part of a group of sawmills in the Western part of Amsterdam.
While most other sawmills were dismantled due to urbanization, de Otter remained operational until the early 1900s. In the 1990s, it was fully restored and is now back in operation since 2019.
As the oldest windmill in Amsterdam that has not been moved, de Otter holds significant historical value as a national monument. However, due to changes in the surrounding area, wind conditions are no longer suitable for its operation.
The owners have proposed to relocate the mill, but legal challenges have left it in its current location for the time being.
De Otter Location
De Otter is located at Gillis van Ledenberchstraat 78, 1052 VK Amsterdam. This one is in the city center and can be reached by bike or walking.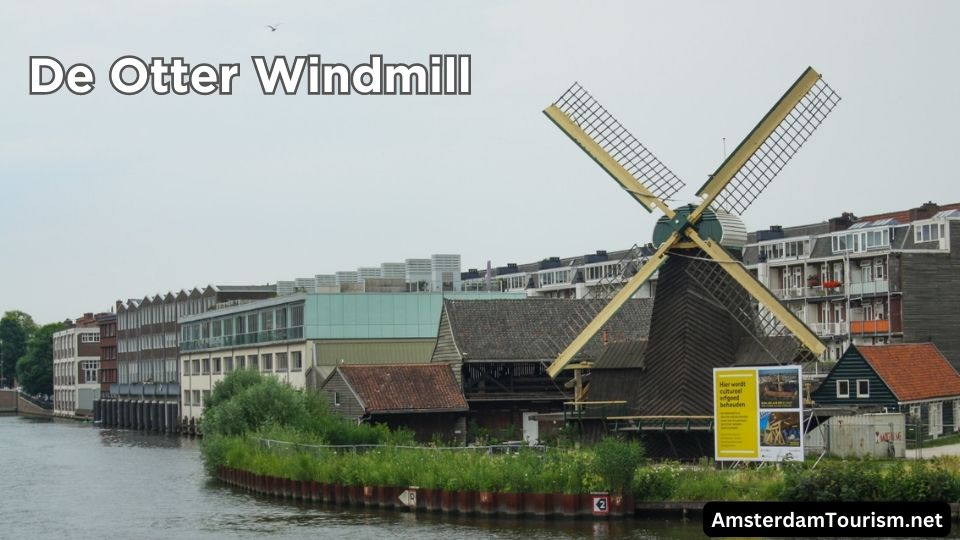 5. Riekermolen
Riekermolen, or The Rieker Mill, was originally built in 1636 in the village of Sloten just outside Amsterdam. It now stands at the southern end of Amstel Park on the Amstel River.
It was moved to its present location in the 1960s. Although retired, this drainage mill occasionally operates on weekends during the summer when the wind is favorable.
Adjacent to the mill, you can find a statue of Rembrandt, who was fond of this area and featured it in several of his sketches.
Riekermolen Location
Riekermolen is located at De Borcht, Amsterdam. It's situated in the Amstelpark and can be reached by bike or public transport.
6. d'Admiraal Windmill
D'Admiraal is the last remaining chalk and trass mill in the Netherlands. Built in 1792 to grind volcanic stone for mortar and later used for chalk grinding, it still operates today.
Situated in the picturesque Buiksloot, a former village now part of Amsterdam, the d'Admiraal windmill welcomes visitors every second Saturday of the summer months with free entry.
d'Admiraal Location
d'Admiraal Windmill is located at Noordhollandschkanaaldijk 21, 1034 ZL Amsterdam. It can be reached by bus or bike.
Windmills Around Amsterdam
Windmills around Amsterdam are listed below.
Windmills at the Zaanse Schans
The Keukenhof Windmill
Katwoude Windmill
Korenmolen De Leeuw
De Zandhaas
Water Mill 1200 Roe
Molen De Koker
Molen Het Prinsenhof
Molen Het Pink
Molen De Bleeke Dood
1. Windmills at the Zaanse Schans
Windmills at the Zaanse Schans are traditional Dutch windmills located in a historic area near Amsterdam. They showcase the country's industrial heritage and were historically used for tasks like grinding, sawing, and pumping water. Visitors can explore these iconic windmills and learn about their significance.
The eight windmills in Zaanse Schans are listed below.
De Huisman (The Houseman) – A mustard mill
De Kat (The Cat) – A sawmill
De Zoeker (The Seeker) – An oil mill
Het Jonge Schaap (The Young Sheep) – A sawmill
De Gekroonde Poelenburg (The Crowned Poelenburg) – A sawmill
De Bonte Hen (The Spotted Hen) – A sawmill
De Os (The Ox) – An oil mill
De Schoolmeester (The Schoolmaster) – A paint mill
Apart from windmills, visitors can explore a bakery museum, a Dutch clock museum, and other attractions.
Zaanse Schans is a year-round destination, but most windmills are open to visitors from April to October. It's an excellent day trip from Amsterdam, with a Zaanse Schans Card available for access to most attractions.
Zaanse Schans Windmills Location
Windmills at the Zaanse Schans are located in Zaandam, around 15 km north of Amsterdam. You can get there by taking a train to Zaandijk-Zaanse Schans Station and then walking for around 15 minutes.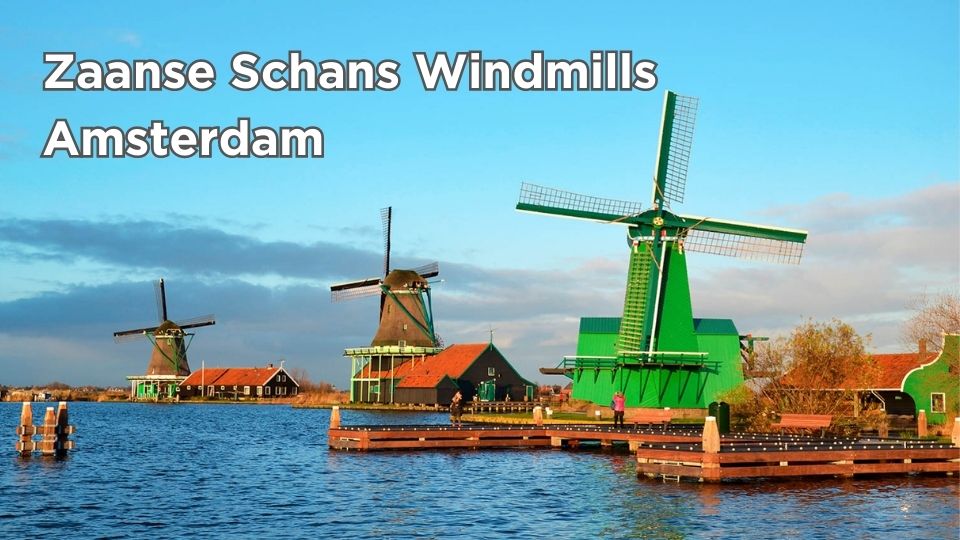 2. The Keukenhof Windmill
The Keukenhof Windmill is a tower mill located in Keukenhof, Lisse, Netherlands. Originally built in 1892 as a polder mill in Scharmer, it was gifted to Keukenhof by the Holland-America Line in 1957.
Today, the windmill serves as a decorative element and offers a stunning view of the tulip fields and the park. While it may not provide in-depth information about windmills in general, the Keukenhof Windmill adds to the charm of the world's largest tulip garden.
The Keukenhof Windmill Location
The Keukenhof Windmill is in Lisse, about 40 km from Amsterdam. You can take a bus directly to the gardens during the open season.
3. Katwoude Windmill
The Katwoude Windmill, also known as the Kathammer, is a polder windmill located in the Achterdichting neighborhood of Katwoude village, near Volendam. Its primary function is to power the drainage of the local older.
Visitors can enjoy a half-hour guided tour led by miller Roel, who explains the mill's history and operation. The windmill's interior can be visited under supervision, with an opportunity to ask questions. It's open between April 1st and October 31st, and visits should be scheduled by appointment.
Katwoude Windmill Location
Katwoude Windmill is located in Katwoude. You can reach this one by taking a bus from Amsterdam.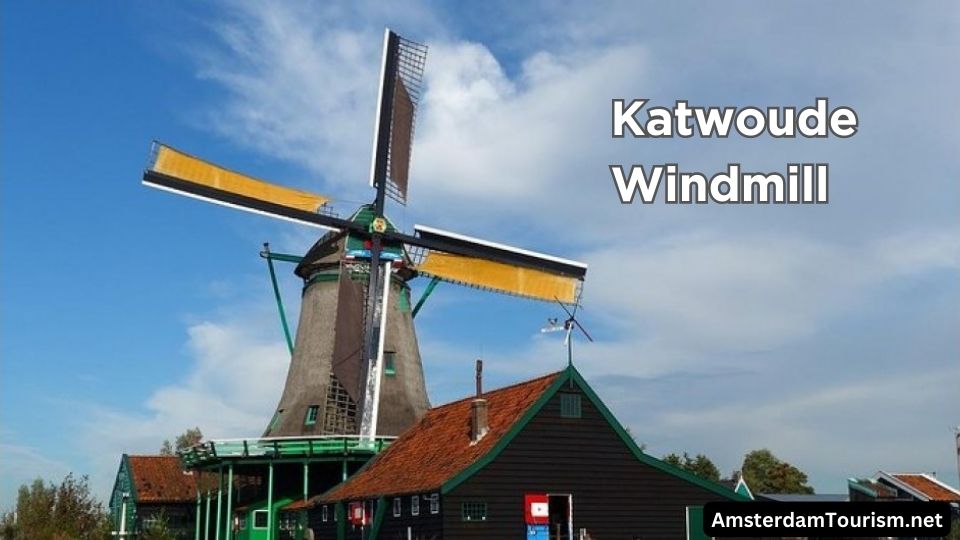 4. Korenmolen De Leeuw
Korenmolen De Leeuw is a 150-year-old windmill located on Molenplein in Aalsmeer-Centrum, dating back to 1547 and standing at a height of eight meters.
It is open to the public on Tuesday and Saturday afternoons, and visitors can also explore it digitally through the website seven days a week.
The mill has a shop where visitors can purchase various types of flour, kernels, seeds, and mixes for cakes or pancakes during opening hours.
Korenmolen De Leeuw Location
Korenmolen De Leeuw is located at Zijdstraat 28, 1431 EE Aalsmeer. You may reach it by bus from Amsterdam.
5. De Zandhaas
De Zandhaas is an octagonal tower mill, originally built in 1779 and named 'De Santhaes.' It underwent restoration in 1964 and 1996, ensuring its preservation for the future.
Visitors can explore the mill's shop at the base, featuring a classic interior dating back to around 1900, which was formerly part of a spice shop near De Zandhaas. The mill's shop now specializes in bread and baking products.
Guided tours of the mill are usually conducted in Dutch, but arrangements can be made for tours in other languages. The mill and its associated stores are open from Thursday to Saturday, 10:00 to 17:00.
De Zandhaas Location
De Zandhaas is located at Wüstelaan 83, 2071 AD Santpoort-Noord. A train to Santpoort-Noord and a short walk will get you there.
6. Water Mill 1200 Roe
Water Mill 1200 Roe is an octagonal windmill that originally served the purpose of draining the Osdorperbinnenpolder swamp area in Amsterdam, Netherlands. It fulfilled this function until around 1950, when it became unnecessary.
Currently owned by the city of Amsterdam, Water Mill 1200 Roe is permanently inhabited.
Water Mill 1200 Roe Location
Water Mill 1200 Roe is located at Spaarndammerdijk 1200, 1014 AD Amsterdam. Accessible by bike or bus.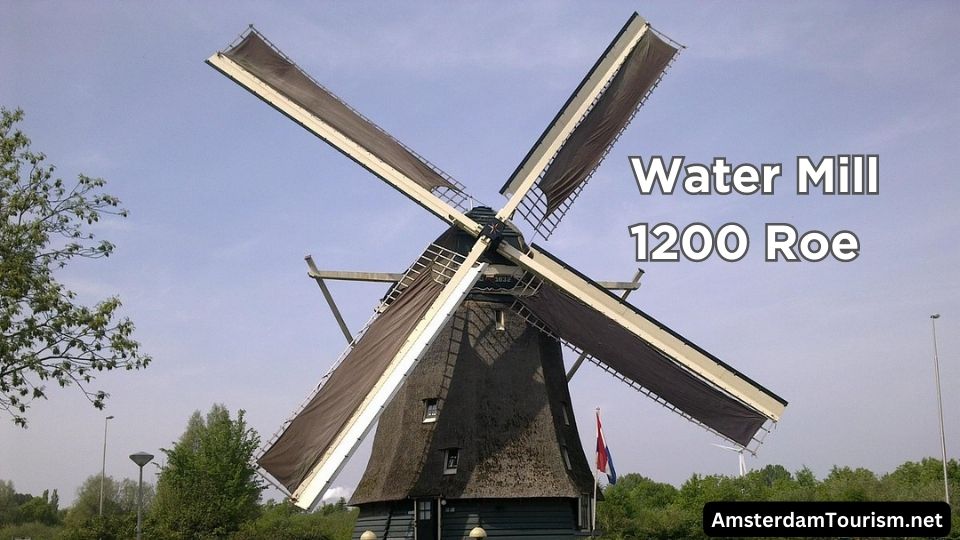 7. Molen De Koker
De Koker, also known as De Zwarte Hengst (The Black Stallion), is the only surviving flour mill in the village of Oosteinde. It underwent extensive repairs due to storm damage and two fires in 1840 and about 25 years later, but it stands strong today.
De Koker serves as both a flour mill and a peeling mill. In 1928, it fell into disuse, but later, in a dilapidated state, it was restored by De Zaansche Molen.
Notably, until the late 19th century, the mill received its grain supply through a boat that sailed directly into it.
Molen De Koker Location
Molen De Koker is located at Westdijk 46, 1847 LH Zuidschermer. It's advisable to travel by car, or you could take a train and bike the rest of the way.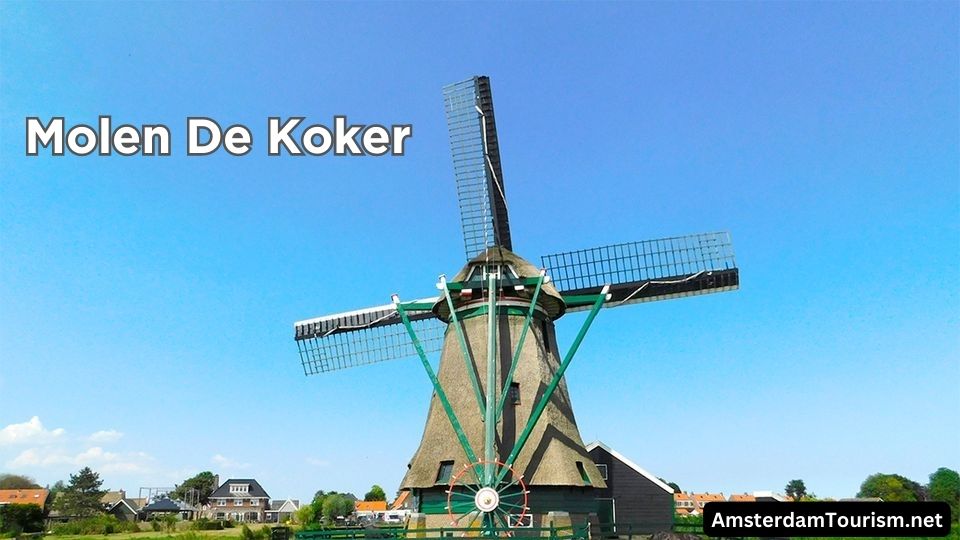 8. Molen Het Prinsenhof
Molen Het Prinsenhof is one of the last peeling mills in the Netherlands. Built in 1722, it was initially used exclusively for hulling barley for 178 years.
Later, it switched to processing coffee pods, and during the First World War, it ground sawdust into wood flour for linoleum manufacture until 1954.
In 1961, the mill was acquired by the Association De Zaansche Molen. After a major restoration in the 1970s, it resumed peeling barley. It also husked rice until mechanization led to its production in rice-growing countries.
Today, Het Prinsenhof windmill still produces real pearl barley.
Molen Het Prinsenhof Location
Molen Het Prinsenhof is located at Westvest 52, 2611 AZ Delft. A train to Delft Station followed by a short walk is a convenient way to visit.
9. Molen Het Pink
Molen Het Pink has a diverse history, initially a sawmill in 1620, later confirmed as an oil mill. It became part of De Zaansche Molen in 1939, and Frans Mars painted the famous "Molenpanorama" there.
Now, it stands as a cherished landmark at Zaanse Schans.
Molen Het Pink Location
Molen Het Pink is located at Oosterdijk 12, 1671 HJ Medemblik. You can get there by train to Medemblik and then a walk or bike ride.

10. Molen De Bleeke Dood
"De Bleeke Dood" was a flour mill in Zaandijk that operated from the 17th century until 1904. Over time, it deteriorated, losing its sails, tail, and gallery.
In the 1950s, restoration efforts began, and by 1954, the mill was restored to its former glory, becoming a significant monument to Zaandijk's history.
2001 another renovation took place, preserving the mill's historical value. Today, "De Bleeke Dood" stands as a captivating reminder of the village's past.
Molen De Bleeke Dood Location
Molen De Bleeke Dood is located at Lagedijk 4, 1544 BB Zaandijk. Reachable by train to Zaandijk-Zaanse Schans and a walk.
Are any Windmills located in Amsterdam City?
Yes, there are 6 windmills in Amsterdam City.
De Gooyer Windmill
Molen van Sloten
De Otter Windmill
De Bloem Windmill
Riekermolen
D'Admiraal Windmill
Which is the most popular Windmill in Amsterdam?
The most popular in Amsterdam is De Gooyer Windmill. It's the tallest wooden windmill in the Netherlands, located near the city center, making it a recognizable landmark. Adjacent to the windmill is the popular Brouwerij 't IJ, a brewery that often attracts visitors.
While De Gooyer may not be open to the public for interior tours, its prominence and convenient location contribute to its popularity among both tourists and locals.
Amsterdam Windmill Tours
Amsterdam windmill tours allow visitors to explore the historic and iconic windmills in and around the city.
These tours may include guided visits to famous windmill sites like Zaanse Schans, bike tours through the countryside, or combined experiences with other cultural attractions.
Options range from half-day to full-day tours and can be booked through various private and group tourism agencies, depending on your preference.