An atlas was sold last year in Amsterdam. On the second of October 2010, an atlas made by Joan Blaeu was sold for the record sum of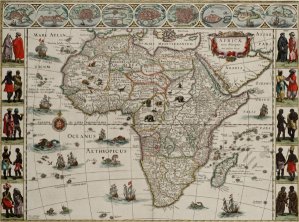 330.000 euros. The book in question is called 'Toonneel der steden van de Vereenighde Nederlanden met hare beschijvingen' (Sequence of the cities of the United Netherlands and its descriptions).
The buyer chooses to remain anonymous, he paid three times the estimated amount of its value.
Amsterdam played host to many printers, publishers and booksellers. De Blaeu firm was one of them, it was one of the larger companies and enjoyed great respect throughout the world. Both father and son Blaeu made atlases, maps and globes.
So, who was he? this Joan Blaeu
Joan was the son of Willem Janszoon Blaeu born in 1571 in Uitgeest. He died in Amsterdam in 1638 and was buried in the Nieuwe kerk.
He was taught the trade of instrument maker in Denmark by a man called Tycho Brahe. Upon his return 1599 he settled in Amsterdam (where else) in an area called "de Lastage." The neighborhood was an industrial centre just outside the city walls. It was also where the ships came in and he frequently found himself in the company of sailors who told him of far away and exotic places.
In 1633 Willem was offered a position as mapmaker of the VOC (Dutch East India Company) and as examiner of VOC-navigating officers.
In 1637, a year before he died, he moved his offices to the Jordaan district (Bloemgracht).
Joan Blaeu
Joan Blaeu continued to run the company together with his brother Cornelis. Willem made many of his atlases with his sons assisting him and they were considered the most colorful, handsome and detailed in the world.
There's more info about the Blaeu firm available on the website of the Regional Archives in Leiden: (link)
And the library of the VU (free university of) Amsterdam: (link)
In the library of (Germany) Marburg: (link)
The Dutch Maritime museum in Amsterdam and the Tresoar at Leeuwarden have several of his maps on display.
The Blaeu family are found on window number 18 in the Canon of Amsterdam.