How do they work? Well, the air is blown through an accordion; that's how it produces sound, just like a mouth harmonica. The air comes from a bellow within the instrument; the player has to keep the bellow in motion continually; next, he pushes on one of the buttons on the button board, which allows air to flow through one or more reeds, which in turn, causes them to vibrate and produce sound.
The reeds are all different in that each one produces its own unique sound.
The accordion is a single tone instrument, just like the organ. Consequently, it takes a skilled player to produce music of advanced quality.
There are roughly two sorts of accordions, the piano variety and the button one. The piano accordion has a piano board on the right side, and button one has three to five rows of buttons.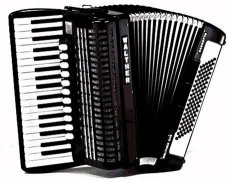 During the mid-fifties, the accordion gains in popularity, music from the Jordaan district is the main reason. Many of the residents there have South European roots; kids all have accordions under their beds, they all want to become accordion players.
The best and most famous accordion players are/were Johan Holshuysen (John Woodhouse), Tonny Eyk, Johnny Meyer, René Trok, André Vrolijk, Peter Batenburg, Hans Kap, Trio Heesbeen, Dick Huis, Harry Lakenman and of course Eddie Hooreman of the Rembrandt Duo.
If you're looking for links about accordions, let me refer you to Jeroen Nijhof; no one has more links on the subject than he does; if you're looking for information, you'll find it HERE.