Dam Square, or "De Dam" in Dutch, is one of the most iconic and historic locations in Amsterdam, Netherlands.
Located in the city center, it serves as a central hub for both locals and tourists, attracting many visitors throughout the year.
The square is just a short distance from Amsterdam Central Station and is easily accessible by public transportation.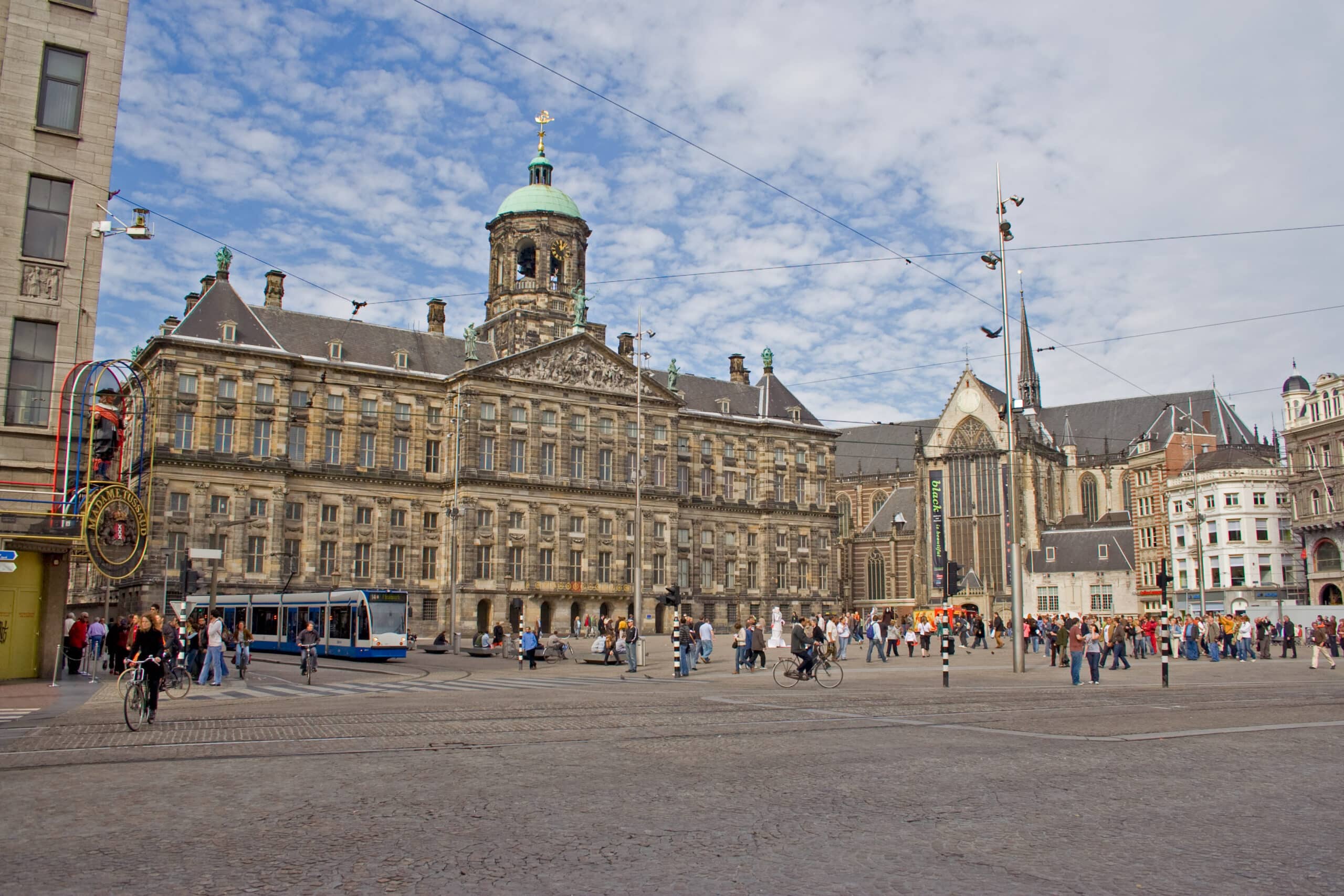 History of The Dam Square
The origins of Dam Square can be traced back to the 13th century when a dam was constructed on the Amstel River. Dam Square was originally a fish market where ships would dock for unloading.
The dam's primary purpose was to regulate water flow and provide a safe crossing point for travelers.
The dam was constructed to connect the settlements on both sides of the river and played a crucial role in the city's development.
It marked a crucial milestone in the development of Amsterdam, as the dam facilitated trade, transportation, and the growth of a small fishing village.
The dam was immensely popular because it was made wide enough to develop a town square and the whole town around it.
As Amsterdam prospered, the area around the dam expanded and became a central meeting point for locals.
Over time, the square evolved naturally, driven by the increasing importance of the dam as a hub of activity.
Merchants, craftsmen, and residents gathered around the dam, giving rise to a bustling square that would later be known as Dam Square.
In the 17th century, Amsterdam experienced a period of economic and cultural prosperity known as the Dutch Golden Age.
The city flourished as a center of trade, art, and innovation. During this time, the decision was made to replace the original dam with a more sophisticated structure.
The dam was widened and transformed into a square, solidifying its role as the heart of the city.
Throughout the centuries, Dam Square has witnessed numerous significant events and served as a backdrop for pivotal moments in Dutch history. It has been a site of protests, celebrations, and commemorations.
The square has seen everything from royal processions to political demonstrations, making it a powerful symbol of civic life and collective identity.
In modern times, Dam Square continues to be a vibrant and dynamic part of Amsterdam.
Surrounded by shops, cafes, and entertainment venues, it remains a popular meeting point for locals and tourists.
The square's central location and historical significance make it a hub for cultural events, festivals, and New Year's Eve celebrations, attracting visitors from all over the world.
Prominent Landmarks Surrounding The Dam Square
Dam Square has several prominent landmarks, each with historical and cultural significance.
The Royal Palace
The Royal Palace, also known as the Koninklijk Paleis and the Town Hall, stands proudly on the square's western side. It was originally built in the 17th century as the city hall and later became a royal residence.
Today, the palace is used for official functions and is open to the public for guided tours.
In 2013 King Willem Alexander was enthroned in the Nieuwe Kerk, where he married Queen Maxima in 2002.
New Church
Nieuwe Kerk, or New Church, is located on the eastern side.
Despite its name, the church dates back to the 15th century and is known for its stunning Gothic architecture.
While no longer used as a place of regular worship, the Nieuwe Kerk hosts various exhibitions, concerts, and royal ceremonies.
The National Monument
The National Monument, situated in the center of Dam Square, is a significant memorial dedicated to the Dutch victims of World War II.
It serves as a solemn reminder of the country's history and a symbol of peace and freedom.
The monument attracts both locals and tourists who gather there on important national occasions and public demonstrations.
Shopping At The Dam Square
Dam Square and its surrounding area offer a diverse range of shopping options to cater to different tastes and preferences.
Some of the hotels that are about a 5-10 minute walk from the Amsterdam Dam Square are:
High-end Shopping
Dam Square has several upscale department stores and luxury brands. The Magna Plaza, a stunning historical building near the Royal Palace, houses various high-end shops offering fashion, jewelry, cosmetics, and more.
Fashion and Retail Chains
The area around Dam Square features numerous fashion and retail chains, where you can find popular international brands and Dutch favorites. Kalverstraat, a bustling shopping street adjacent to Dam Square, offers various clothing stores, shoe shops, electronics outlets, and souvenir shops.

Dutch Specialty Stores
If you're interested in Dutch specialties, you'll find traditional Dutch markets and specialty stores nearby. De Bijenkorf, a renowned Dutch department store, is a great place to explore luxury fashion, cosmetics, accessories, and gourmet food items.
Souvenirs and Gifts
Dam Square and its surroundings are dotted with souvenir shops and gift stores, where you can find a wide array of Amsterdam-themed merchandise, including postcards, magnets, wooden clogs, tulip bulbs, and cheese.
Antique and Vintage Shops
If you're a fan of antique and vintage shopping, you'll also find a few stores in the area offering unique pieces, including furniture, artwork, vintage clothing, and collectibles.
Additionally, the adjacent narrow streets and alleys branching off Dam Square often house smaller boutiques, art galleries, bookstores, and specialty shops, providing opportunities for more unique and niche shopping experiences.
Did Amsterdam Get Its Name From The Dam Square?
No, Amsterdam did not originate from Dam Square. The origins of Amsterdam can be traced back to the 12th century when a small fishing village was established near the Amstel River.
The village grew in importance as a trading center due to its favorable location and dam construction on the river. This dam, known as "Dam" in Dutch, gave the city its name.
Over the centuries, Amsterdam expanded beyond the area of the original dam and developed into a major city with a rich history and cultural heritage.
Dam Square, located in the heart of Amsterdam, is a significant historical and cultural site within the city, but it is not where Amsterdam originated.
Hotels Near The Dam Square
Some of the hotels that are about a 5-10 minute walk from the Amsterdam Dam Square are:
FAQs
Why is Dam Square Popular?
The popularity of Dam Square can be attributed to its historical significance, iconic landmarks, central location, vibrant atmosphere, cultural events, and its embodiment of Amsterdam's spirit.
This captivating landmark has become a meeting point, a cultural hub, and a symbol of the city's rich heritage and contemporary vitality.
Is There An Entrance Fee For The Dam Square?
No, Dam Square itself is free to visit. It is a public square that is open to everyone and does not require an entrance fee. However, certain attractions within or near Dam Square, such as the Royal Palace, may charge an admission fee if you wish to enter and explore their interiors.
Is Dam Square A Good Place To Stay?
Dam Square is not a place to stay overnight as it is primarily a public square and tourist destination in the heart of Amsterdam. However, the surrounding area near Dam Square offers many accommodation options, including hotels, hostels, and apartments.